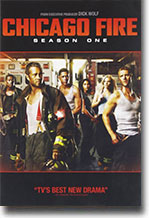 Chicago Fire is not a procedural 'fire of the week' show. It actually does the ensemble drama really well. There is nice balance between the characters and  how these characters connect with each other and how the story lines are slowly developed.
The friendship between roommates Leslie Shay (Lauren German) and Kelly Severide (Taylor Kinney) is great. Severide plays the tough on the outside, soft on the inside guy, who walks away from his medical problems by secretly taking lots of illegal painkillers. Kinney plays the part very well, and partly because of his genuine scenes and aforementioned friendship with Shay.
Dawson also has some cute scenes with new kid on the block Peter Mills (Charlie Barnett), but is too much in love with lieutenant Matthew Casey to notice their chemistry. Sadly for her, Casey is already engaged to another medical professional. This may sound a little soapy or gooey, but actually, Dawson kicks ass. Literally. Which gets her in to trouble sometimes.
Lt. Casey is arguably the real star of the show. He is played by Jesse Spencer, whom I liked in his House MD days, but who really impressed me on Chicago Fire. He plays the classic good guy, but not in a boring way. His intense story line involving a dirty cop truly propelled the show to greater heights.
It doesn't focus all of it's story on firefighting actions and the drama develops in accordance to their character's actions which avoid the feel of rushing in the storytelling which usually every network shows has. The writers  develop the underlying plot and suspense in a pace which the story deserves rather than focusing too much on pleasing the viewers. This also gives the audience to connect to their favorite characters.

Character to watch: Lauren German as Leslie Shay.
Journal your answers to the following questions after you watch the series.
How does this particular character's journey compare with yours?
Did the character develop certain characteristics during the movie that you have or that you would like to have? If so, what are those characteristics?
What obstacles did this character face? What was his or her biggest challenge?
What would you have done differently if you had been in the same position as the character?
Is this character the type of person you would be friends with? Why or why not?