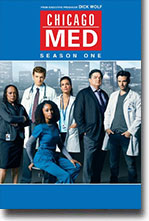 Chicago Med is an emotional thrill ride through the day-to-day chaos of the city's most explosive hospital and the courageous team of doctors who hold it together. They will tackle unique new cases inspired by topical events, forging fiery relationships in the pulse-pounding pandemonium of the emergency room.
I'm not usually a fan of spinoffs…and this one is actually a spinoff of a spinoff! But from the moment Dr. Will Halstead (Nick Gehlfuss) was introduced on Chicago PD as Jay's older brother returning from New York. He was presented as an overall nice guy, but with a number of underlying issues clearly glimmering just beneath the surface. Thus we followed Will into his new life as he accepted a position at Chicago Med's emergency dept.
Along with Will, we meet his colleagues Dr. Natalie Manning (Torrey DeVitto), a pregnant pediatrician who recently lost her military husband; Dr. Connor Rhodes (Colin Donnell), the son of a wealthy Chicago business owner who just wants to earn his own way in the world; Dr. Ethan Choi (Brian Tee), a Navy veteran battling PTSD; Dr. Daniel Charles (Oliver Platt), the head of psychiatry tasked with assisting with difficult cases; fourth-year med student Sarah Reese (Rachel DiPillo) and Dr. Sharon Goodwin (S. Epatha Merkerson), the hospital's chief administrator. They are assisted by nurses Maggie Lockwood (Marlyne Barrett) and April Sexton (Yaya Dacosta).
The group regularly juggles critical emergency cases along with their own personal life problems. And as with the two previous Chicago shows, the gang from Med can usually be found at Molly's to celebrate and contemplate a long day.

Character to watch: Oliver Platt as Dr. Daniel Charles.
Journal your answers to the following questions after you watch the series.
How does this particular character's journey compare with yours?
Did the character develop certain characteristics during the movie that you have or that you would like to have? If so, what are those characteristics?
What obstacles did this character face? What was his or her biggest challenge?
What would you have done differently if you had been in the same position as the character?
Is this character the type of person you would be friends with? Why or why not?