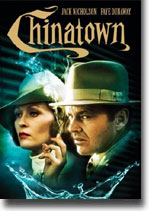 Landmark movie in the film noir tradition Roman Polanski's Chinatown stands as a true screen classic. Jack Nicholson is private eye Jake Gittes living off the murky moral climate of sunbaked pre-war Southern California.
Hired by a beautiful socialite (Faye Dunaway) to investigate her husband's extra-marital affair Gittes is swept into a maelstrom of double dealings and deadly deceits uncovering a web of personal and political scandals that come crashing together for one unforgettable night in…Chinatown. Co-starring film legend John Huston and featuring an Academy Award-®-winning script by Robert Towne Chinatown captures a lost era in a masterfully woven movie that remains a timeless gem.
Roman Polanski's brooding film noir exposes the darkest side of the land of sunshine, the Los Angeles of the 1930s, where power is the only currency–and the only real thing worth buying. Jack Nicholson is J.J. Gittes, a private eye in the Chandler mold, who during a routine straying-spouse investigation finds himself drawn deeper and deeper into a jigsaw puzzle of clues and corruption.
The glamorous Evelyn Mulwray (a dazzling Faye Dunaway) and her titanic father, Noah Cross (John Huston), are at the black-hole center of this tale of treachery, incest, and political bribery. The crackling, hard-bitten script by Robert Towne won a well-deserved Oscar, and the muted color cinematography makes the goings-on seem both bleak and impossibly vibrant. Polanski himself has a brief, memorable cameo as the thug who tangles with Nicholson's nose. One of the greatest, most completely satisfying crime films of all time.
Director: Roman Polanski
Year of Release: 1974

Character to watch: Jack Nicholson as J.J. Gittes.
Journal your answers to the following questions after you watch the movie.
How does this particular character's journey compare with yours?
Did the character develop certain characteristics during the movie that you have or that you would like to have? If so, what are those characteristics?
What obstacles did this character face? What was his or her biggest challenge?
What would you have done differently if you had been in the same position as the character?
Is this character the type of person you would be friends with? Why or why not?