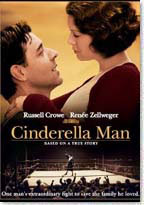 James J. Braddock (Russell Crowe) is an Irish-American boxer from New Jersey, formerly a light heavyweight contender, who is forced to give up boxing after breaking his hand in the ring. This is both a relief and an upset to his wife, Mae  (Renée Zellweger): she cannot bring herself to watch the violence of his chosen profession, yet she knows they will have no good income without his boxing.
As the United States enters the Great Depression, Braddock does manual labor as a longshoreman to support his family, even after badly breaking his hand. Unfortunately, he cannot get work every day. Thanks to a last-minute cancellation by another boxer, Braddock's longtime manager and friend, Joe Gould (Paul Giamatti), offers him a chance to fill in for just this one night and make a little money. The fight is against the number-two contender in the world, Corn Griffin (Art Binkowski).
Braddock's story is so amazing and inspirational, that it is astonishing that it's taken seventy years to tell it. Sylvester Stallone 'borrowed' from it, extensively, in creating "Rocky", and in viewing the film, the parallels between fact and fiction are obvious; Braddock had been an 'up and comer' in the twenties, but broken bones and ill-advised matches had cost him a championship shot.
Then the Depression struck, Braddock was wiped out, financially, and he struggled to support his wife and family through the most harrowing period in American history. Considered 'washed up' and too old for a comeback, all the boxer had going for him was his wife's love, his manager's faith, and his personal integrity, which refused to allow him to give up. He tenaciously climbed back up the ranks of younger title contenders, earning the adoration of a country trying to rebuild their own lives, as well, until, finally, he had his championship match, against ruthless 'killing machine' Max Baer.
Director: Ron Howard
Year of Release: 2005

Character to watch:  Russell Crowe as Jim Braddock.
Journal your answers to the following questions after you watch the movie.
How does this particular character's journey compare with yours?
Did the character develop certain characteristics during the movie that you have or that you would like to have? If so, what are those characteristics?
What obstacles did this character face? What was his or her biggest challenge?
What would you have done differently if you had been in the same position as the character?
Is this character the type of person you would be friends with? Why or why not?