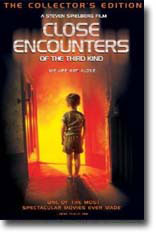 Anybody who's too young to remember The Goodbye Girl may be shocked at the accomplishment and nuance of Richard Dreyfuss's performance in Close Encounters of the Third Kind. Here, he plays a man possessed; contacted by aliens, he (along with other members of the "chosen") is drawn toward the site of the incipient landing: Devil's Tower, in rural Wyoming. As in many Spielberg films, there are no personalized enemies; the struggle is between those who have been called and a scientific establishment that seeks to protect them by keeping them away from the arriving spacecraft.
The ship, and the special effects in general, are every bit as jaw-dropping on the small screen as they were in the theater. Released in 1977 as a cerebral alternative to the swashbuckling science fiction epics then in vogue, Close Encounters now seems almost wholesome in its representation of alien contact and interested less in philosophizing about extraterrestrials than it is in examining the nature of the inner call.
Spielberg's screenplay divides Close Encounters roughly into three acts, basically corresponding to each of the three kinds of "encounters." In the first category, sightings of a UFO, we first see a very strange sight in the Mexican desert: an international team of researchers led by French UFO expert Lacombe (Francois Truffaut) and guided by several Mexican Federales finds five World War II vintage Grumman TBM Avengers. The planes are abandoned but strangely intact, as though they were brand new. "Who flies this kind of plane?" asks a bewildered cartographer/interpreter named Laughlin (Bob Balaban).
Later, in the Indianapolis Air Traffic Control Center, a more dramatic close encounter of the first kind plays out on the radar scopes as airliner pilots call in reports of bright lights in the sky and unknown contacts make their presence known. For a few tense minutes it look as though tragedy is imminent, but within moments the contacts vanish into the night sky. Torn between reporting a UFO sighting or just letting the incident slide by, pilots and air traffic controllers alike opt to keep quiet, mainly to avoid having to fill out tons of bureaucratic paperwork.
As important as these sequences are, the focus of Spielberg's story is on Roy Neary (Dreyfuss), an employee of a Midwestern power company whose life on Earth is ordinary, hectic, and somewhat unfulfilling. Sent out to investigate a section of power lines in rural Indiana (caused, of course, by the UFOs' passage), Neary has a close encounter of the first kind and impulsively goes on a truck-borne pursuit of two small "flying saucers."
This sequence, which ends with a Keystone Kops-like police chase of the same UFOs, triggers an obsession within Neary that neither his wife Ronnie (Teri Garr) nor his children will understand, much less accept. Neary, along with several hundred other people from different towns and states, will soon be haunted by both a visual image and a simple five-note musical phrase. The traces of the UFO flights that leave traces behind (sunburn on people who, like Neary, were exposed to bright light at night) are known as close encounters of the second kind.
Director: Steven Spielberg
Year of Release: 1977

Character to watch: Richard Dreyfuss as Roy Neary.
Journal your answers to the following questions after you watch the movie.
How does this particular character's journey compare with yours?
Did the character develop certain characteristics during the movie that you have or that you would like to have? If so, what are those characteristics?
What obstacles did this character face? What was his or her biggest challenge?
What would you have done differently if you had been in the same position as the character?
Is this character the type of person you would be friends with? Why or why not?