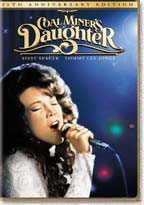 Loretta Lynn (Sissy Spacek) is one of eight children born to Ted Webb (Levon Helm), a coal miner raising a family despite grinding poverty in Butcher Hollow, Kentucky (pronounced by locals as "Butcher Holler").
She marries Oliver Vanetta (Doolittle) "Mooney" Lynn (Tommy Lee Jones) when she is 15 years old. A mother of four by the time she is 19 (and a grandmother by age 29), Lynn begins singing the occasional song at local honky-tonks on weekends as well as making the occasional radio appearance.
At the age of 25, the owner of a small Canadian record label hears her sing during one of her early Northern Washington radio appearances. Burley gives the couple the money needed to travel to Los Angeles to cut a demo tape from which her first single, "Honky Tonk Girl", would be made.
After returning home from the sessions, Mooney suggests that they go on a promotional tour to push the record. He takes his own publicity photo, and spends many late nights writing letters to show promoters and to radio disc jockeys all over the South. The two embark on an extensive promotional tour of radio stations across the South.
En route, and unbeknownst to the pair, Loretta's first single, "Honky Tonk Girl", hits the charts based on radio and jukebox plays, and earns her a spot on the Grand Ole Opry. After seventeen straight weekly performances on the Opry, she is invited to sing at the Ernest Tubb Record Shop Midnite Jamboree after her performance that night.
This heartwarming, true rag-to-riches film about the life of Loretta Lynn took even the most sophisticated audiences by surprise when it was first released. Sissy Spacek is wonderfully accurate in her portrayal of the legendary but still humble and approachable country music star.
The fact that Spacek and D'Angelo so effectively do all their own singing, considering the shoes they had to fill, just makes this film all that much of a wonder. Levon Helm, of The Band, is also very good as "Lorettys" daddy. Just an all- around terrific film, with many touching moments from a by-gone time, when a little girl with a record could tap on the radio station window one day, and be a star a week later. Sissy Spacek's Oscar winning performance makes for a total class production about a total class lady.
Director:  Michael Apted
Year of Release: 1980

Character to watch: Sissy Spacek as Loretta Lynn.
Journal your answers to the following questions after you watch the movie.
How does this particular character's journey compare with yours?
Did the character develop certain characteristics during the movie that you have or that you would like to have? If so, what are those characteristics?
What obstacles did this character face? What was his or her biggest challenge?
What would you have done differently if you had been in the same position as the character?
Is this character the type of person you would be friends with? Why or why not?