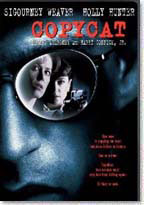 After giving a guest lecture on criminal psychology at a local university, Dr. Helen Hudson (Sigourney Weaver), a respected field expert on serial killers, is cornered in a lavatory by one of her previous subjects, Daryll Lee Cullum (Harry Connick, Jr.), who kills a police officer and brutally attacks her.
Helen becomes severely agoraphobic as a result, sealing herself inside an expensive hi-tech apartment, conducting her entire life from behind a computer screen and assisted by a friend, Andy (John Rothman).
When a new series of murders spread fear and panic across her home city of San Francisco, detective M.J. Monahan (Holly Hunter) and her partner Reuben Goetz (Dermot Mulroney) solicit Helen's expertise. Initially reluctant, Helen soon finds herself drawn into the warped perpetrator's game of wits.
As the murders continue Helen realizes the elusive assailant draws inspiration from notorious serial killers including Albert DeSalvo, The Hillside Strangler, David Berkowitz, Peter Kürten, Ted Bundy, Edmund Kemper and Jeffrey Dahmer. When the murderer begins contacting – and even stalking – Helen, she and M.J. realize that he is after them, and they enlist the aid of Cullum who tells them what he knows about the killer.
Helen soon realizes that the Copycat killer has been following the list of serial killers in the same order she'd presented at the university the night of her attack, and the two work to figure out where and when he will strike next.
Amidst all the suspense, shocks, and chills of this superbly made thriller stands the awesome performances of Sigourney Weaver and Holly Hunter. Ever since she pioneered the "female buttkicker" in the Alien movies, Sigourney has stretched her range to show the immense amount of talent she possesses. Her role as agoraphobic Helen Hudson is one of her finest; she lets us feel every nuance of her frustration, her terror, her anger, her intense ability to be strong even when she admits she's weak.
Matching her performance is the understated portrayal of cop M. J. Monahan by Oscar-winner Holly Hunter. Hunter's bravura etching of this likeable cop is extremely effective in counterbalancing the tormented Weaver.
Although the fate of Dermot Mulroney as Monahan's partner is questionably appropriate, it does serve as a motivating factor in Hunter's pursuit of the serial killer. William McNamara's performance as Peter Foley may seem underplayed, but it serves to heighten the normal-ness of this obviously demented young man. Like life, the good guys don't always come out unscathed.
The film is dark, brooding and its ending is chilling in that Harry Connick Jr.'s imprisoned psycho is obviously going to continue his quest for revenge on Weaver. A sequel would have been nice; I would have also liked to have had at least one scene with Weaver and Hunter after the explosive ending. But, as far as thrillers go, this is a great addition to a small set of classics.
Director: Jon Amiel
Year of Release: 1995

Character to watch: Sigourney Weaver as Helen Hudson.
Journal your answers to the following questions after you watch the movie.
How does this particular character's journey compare with yours?
Did the character develop certain characteristics during the movie that you have or that you would like to have? If so, what are those characteristics?
What obstacles did this character face? What was his or her biggest challenge?
What would you have done differently if you had been in the same position as the character?
Is this character the type of person you would be friends with? Why or why not?