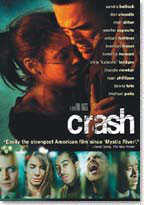 Crash is a film that is set over a thirty-six hour period in Los Angeles. The film interweaves several people's lives as they deal with the tense race relations throughout the city.
The chief figures are  Los Angeles detectives Graham Waters (Don Cheadle) and his partner Ria (Jennifer Esposito), Farhad (Shaun Toub), a Persian shop owner, and his daughter, and Rick Cabot (Brendan Fraser), the local district attorney, and his wife, Jean (Sandra Bullock).
Waters and Ria are investigating a crime scene in which a vehicle is submerged in the water. Farhad and Dorri argue with each other in front of a gun store owner as Farhad tries to buy a revolver for protection. Rick and Jean are carjacked as they are about to enter their Lincoln Navigator by Anthony (Chris "Ludacris" Bridges) and Peter (Larenz Tate), two young black males.
Later when Rick and Jean get home and are having their locks changed, Hispanic locksmith Daniel Ruiz (Michael Peña) is changing their locks when he overhears Jean complaining having a heavily tattooed Hispanic with a shaved head changing their locks.
Director: Paul Haggis
Year of Release: 2004

Character to watch: Don Cheadle as Graham Waters.
Journal your answers to the following questions after you watch the movie.
How does this particular character's journey compare with yours?
Did the character develop certain characteristics during the movie that you have or that you would like to have? If so, what are those characteristics?
What obstacles did this character face? What was his or her biggest challenge?
What would you have done differently if you had been in the same position as the character?
Is this character the type of person you would be friends with? Why or why not?