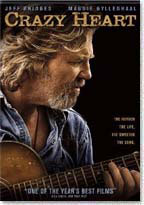 Otis "Bad" Blake (Jeff Bridges) is a 57-year-old alcoholic singer-songwriter who was once a country music star. He now earns a modest living by singing and playing his guitar at one-night stands, in small town bars, in the southwestern United States.
Having a history of failed marriages, Blake is without a family. He has a son, aged 28, with whom he has not had contact in 24 years. He is mostly on the road performing, staying in cheap motels and traveling in his old car alone.
The film opens with his arrival at a bowling alley for a show. Enter Jean Craddock (Maggie Gyllenhaal), a young journalist after a story, divorced and with a four-year-old son, Buddy (Jack Nation). She interviews Blake, and the two enter into a relationship. Jean and her son become a catalyst for Blake beginning to get his life back on track.
In doing so, he lets himself be pushed into renewing a professional relationship with Tommy Sweet (Colin Farrell), a popular and successful country music star he once mentored, and plays as the opening act at one of Tommy's concerts, despite his initial balking and wounded pride at being the opening act to his former student.
Sweet asks Tommy to record an album with him, but Tommy says his record company insists on a couple more solo albums before a duet project can be recorded. He instead suggests that Blake concentrate on writing new songs that Tommy can record solo, telling him he writes better songs than anyone else.
Blake's drinking soon gets out of control, and he ends up running off the road while driving drunk. In the hospital, the doctor informs him that although he only sustained a broken ankle from the crash, he is slowly killing himself, and must stop drinking and smoking and lose 25 pounds if he wants to live more than a few more years.
Director: Scott Cooper
Year of Release: 2009

Character to watch: Jeff Bridges as Bad Blake.
Journal your answers to the following questions after you watch the movie.
How does this particular character's journey compare with yours?
Did the character develop certain characteristics during the movie that you have or that you would like to have? If so, what are those characteristics?
What obstacles did this character face? What was his or her biggest challenge?
What would you have done differently if you had been in the same position as the character?
Is this character the type of person you would be friends with? Why or why not?