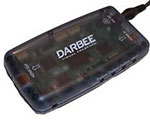 As a devoted videophile, I am always checking out new video enhancement tools. The Darbee Darblet is a new plug and play accessory to enhance your HDMI video entertainment. Darbee Visual Presence (DVP) technology establishes a fundamental breakthrough for image realism. By embedding 2D and 3D pictures with depth information, a new visual experience is created. Enabled by parallel processing in a single chip, DVP represents the next generation of computational image processing for depth and realism.
The Darblet was a great enhancement tool for every DVD in my Blu-ray library. It didn't matter if the transfer was a perfect transfer or a disaster, the Darblet always made the image better. Additionally, the better the transfer the more the Darblet seemed to help.
Sources other than Blu-ray were not quite as dramatic. The next best image enhancement with the Darblet occurred with HD from my Direct TV HD receiver. Interesting, standard definition material didn't gain as much benefit, but the manufacturer warns you about this on there website. The Darblet is really designed to enhance HD – not standard definition.
In sum, the Darblet helped improve detail, but if the source was poor to begin with, the Darblet could enhance some bad artifacts as well, sometimes causing images to look grainy. Fortunately, the Darbee is easy to with its remote so you can simply turn it off or down until the image is where you want it.
The Darbee Darblet is a tool I would whole-heartedly recommend. Although is has a lackluster design and an industrial interface, it does provide an exceptional increase in both depth and detail, especially in HD. You will get the best image possible from your existing home theater system by adding a Darblet to your set-up.