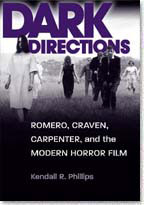 A Nightmare on Elm Street. Halloween. Night of the Living Dead. These films have been indelibly stamped on moviegoers' psyches and are now considered seminal works of horror. Guiding readers along the twisted paths between audience, auteur, and cultural history, author Kendall R. Phillips reveals the macabre visions of these films' directors in Dark Directions: Romero, Craven, Carpenter, and the Modern Horror Film.
Phillips begins by analyzing the works of George Romero, focusing on how the body is used cinematically to reflect the duality between society and chaos, concluding that the unconstrained bodies of the Living Dead films act as a critical intervention into social norms.
Phillips then explores the shadowy worlds of director Wes Craven. In his study of the films The Serpent and the Rainbow, Deadly Friend, Swamp Thing, Red Eye, and Shocker, Phillips reveals Craven's vision of technology as inherently dangerous in its ability to cross the gossamer thresholds of the gothic. Finally, the volume traverses the desolate frontiers of iconic director John Carpenter. Through an exploration of such works as Halloween, The Fog, and In the Mouth of Madness, Phillips delves into the director's representations of boundaries—and the haunting consequences for those who cross them.
The first volume ever to address these three artists together, Dark Directions is a spine-tingling and thought-provoking study of the horror genre. In analyzing the individual works of Romero, Craven, and Carpenter, Phillips illuminates some of the darkest minds in horror cinema.
About the Author: Kendall Phillips is professor of communication and rhetorical studies at Syracuse University where he teaches courses in rhetorical theory, film studies and public memory. His work focuses on theories of democratic culture, the rhetoric of film, and aspects of public remembrance.
He has published several books including, Dark Directions: Romero, Craven, Carpenter and the Modern Horror Film, Projected Fears: Horror Films and American Culture, Framing Public Memory, and Controversial Cinema: The Films that Outraged America and his essays have appeared in such journals as Communication Monographs, Literature/Film Quarterly, and Philosophy & Rhetoric. He was born and raised in Texas and currently lives in Syracuse, New York with his wife and their soft-coated wheaten terrier.
Author: Kendall R. Phillips
Year of Release: 2012