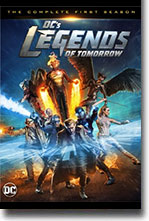 When heroes alone are not enough, the world needs legends. Having seen the future, traveling rogue Rip Hunter assembles a disparate group of both heroes and villains to confront the unstoppable threat of the immortal Vandal Savage (Arthur Darvill) – a threat which not only puts the planet at stake, but all of time itself.
From the creators of The Flash and Arrow comes this super hero team-up that combines characters from both shows – in addition to new heroes from the DC Comics pantheon.
DC's Legends of Tomorrow features Arrow's Brandon Routh as The Atom and Caity Lotz as the resurrected Sara Lance/White Canary; with The Flash's Victor Garber as Dr. Martin Stein alongside Wentworth Miller as Captain Cold and Dominic Purcell as Heat Wave.
The newest heroes Rip Hunter, Jeff Jackson and the reincarnated warrior queen Hawkgirl, this singular super hero spinoff series pits the ragtag team against one of the most powerful villains in the DC Comics universe.
n the year 2166, an immortal warlord called Vandal Savage destroys the last hope of resistance and conquers the planet under his rule. Rip Hunter, a member of the Time Lords, an organization dedicated to police time itself, has his wife and child murdered by the tyrant. Asking his employers for help overthrowing Savage's rule before it starts, he is denied, so he is forced to gather a group of special individuals from the 21st century in order to build himself a group of heroes to find Savage and put an end to his tyranny by any means necessary.
Hunter gathers a very particular group: an assassin (White Canary), an armored scientist (the Atom), a thief (Captain Cold), a pyromaniac (Heatwave), a couple of warriors (Hawkman and Hawkgirl) and a physicist and a student / atomic man (both halves of Firestorm). It's a pretty motley crew, and it reminds a lot of old Super Nintendo RPGs, specially Chrono Trigger, with the time travel element. All of them agree, for different reasons, to help Hunter reach his goal. This goes specially for Hawkman and Hawkgirl, as both have ties to Savage, whose immortality is tied to their lives.


Character to watch: Victor Garber as Dr. Martin Stein.
Journal your answers to the following questions after you watch the series.
How does this particular character's journey compare with yours?
Did the character develop certain characteristics during the movie that you have or that you would like to have? If so, what are those characteristics?
What obstacles did this character face? What was his or her biggest challenge?
What would you have done differently if you had been in the same position as the character?
Is this character the type of person you would be friends with? Why or why not?