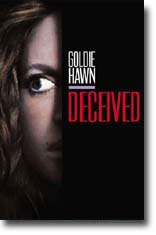 While some might call the plot twists of this thriller improbable, the tension and build to the film creates a momentum that carries the viewer to the incredibly scary climax. Doing less than 30 million in box office, this was not a big hit; but it is a film that holds up remarkably well many years after its release.
Goldie Hawn does an excellent job as Adrienne Saunders, a woman who seems to have it all with a beautiful child and happy marriage. Her husband Jack (John Heard) seems like the All-American father. Then when a colleague of her husband's gets murdered, clue upon clue seems to fly up in her face until Adrienne has to confront her husband. Then Jack mysteriously dies in a car accident.
Director Damian Harris who seems to thrive on thrillers does an amazing job of having event build upon event. The supporting cast of characters do a great job from Jack Saunders' sister to Paul Sullivan's mother.
While this may not be a perfect film, it is a thriller that packs a wallop. Goldie Hawn delivers an understated and believable performance as the terrorized and deceived wife. This is a film worth discovering or revisiting a little over a decade after its release.
Director:  Damian Harris
Year of Release: 1991

Character to watch: Goldie Hawn as Adrienne Saunders.
Journal your answers to the following questions after you watch the movie.
How does this particular character's journey compare with yours?
Did the character develop certain characteristics during the movie that you have or that you would like to have? If so, what are those characteristics?
What obstacles did this character face? What was his or her biggest challenge?
What would you have done differently if you had been in the same position as the character?
Is this character the type of person you would be friends with? Why or why not?