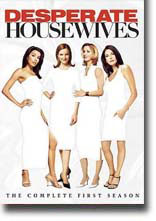 Audiences were captivated by the women of Wisteria Lane in the first season of Desperate Housewives, the breakout hit from ABC that almost single-handedly lifted the network from its ratings doldrums and brought back the classic TV soap, remixed now with satire, comedy, and mystery.
An affectionate yet darkly tinged send-up of suburbia that skirted Twin Peaks territory as much as that of Knots Landing, Desperate Housewives opened with a bang–literally–as perfect-seeming housewife Mary Alice Young (Brenda Strong) went through her picture-perfect day before putting a handgun to her temple and pulling the trigger.
Mary Alice's sudden suicide leaves her four closest friends, all housewives of a sort, with a surfeit of grief, a re-examination of their own lives, and a mystery to solve. It also proves to be a catalyst for a seamy study of what goes on inside the finely appointed homes of Wisteria Lane–the tales of which Mary Alice narrates from beyond the grave with a sardonic tone dipped in both honey and arsenic.
There's Martha Stewart-perfect Bree (Marcia Cross), who rules her household with an iron fist in a tailor-made garden glove and seems to have it all, until she finds out her husband (Steven Culp) is cheating on her–and had a serious fetish habit to boot. Sultry Gaby (Eva Longoria), the youngest of the set, is a bored trophy wife whose predilection for shopping and clothes are the perfect decoy for her affair with the hunky teenage gardener (Jesse Metcalfe).
Former career woman Lynette (Felicity Huffman) is the most stereotypical housewife, raising four (or was it five?) kids and frustrated at using her cutthroat business skills for suburban politics. And daffy Susan (Teri Hatcher), the divorcee looking for love, sees her prospects brighten with the arrival of hunky plumber Mike (James Denton), who has some desperate secrets of his own. And did we mention the neighborhood hussy (Nicollette Sheridan), the snotty busybody (Christine Estabrook), and Mary Alice's increasingly agitated son (Cody Kasch)?
It was a fast and wild mix of plot and characters that gave Desperate Housewives the zing that made it a number one hit, as it never got too bogged down in any dilemma before moving on to the next. And though it was neither as hard-hitting nor salacious as it was trumpeted to be, the show nevertheless breathed fresh, funny air into comedy television, for even though it hewed to the hour-long soap format, the content was far more dark comedy than sudsy drama.
There were fun bright spots to be had, but the story behind Mary Alice's death–which included drugs, murder, blackmail, secret identities, and vengeance in equal amounts–hovered over all the characters, tingeing the farce with the specter of danger. The show's other source of strength is in its peerless ensemble cast, headed by four perfect leading ladies, all Emmy-worthy. Hatcher received the (deserved) lion's share of praise (and a Golden Globe), but her co-stars–especially the underrated Longoria–matched her scene for scene. And though the mystery of Mary Alice's death was ultimately solved (no Twin Peaks teasing here), it was just the beginning of the troubles on Wisteria Lane, where no life went unexamined for too long.

Character to watch: Marcia Cross as Bree Van De Kamp.
Journal your answers to the following questions after you watch the series.
How does this particular character's journey compare with yours?
Did the character develop certain characteristics during the movie that you have or that you would like to have? If so, what are those characteristics?
What obstacles did this character face? What was his or her biggest challenge?
What would you have done differently if you had been in the same position as the character?
Is this character the type of person you would be friends with? Why or why not?