It's the hottest day of the y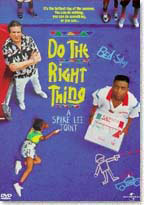 ear in the Bedford-Stuyvesant neighborhood of Brooklyn, and tensions are growing there, with the only local businesses being a Korean grocery and Sal's Pizzeria. Mookie ((Spike Lee), Sal's delivery boy, manages to always be at the center of the action.
Mookie is a young black man living in the neighborhood with his sister, Jade (Joie Lee), who wants him out of her apartment. He works delivering pizzas for a local pizzeria, but he lacks ambition and he works to support his girlfriend Tina (Rosie Perez) and their son Hector.
Salvatore "Sal" Frangione (Danny Aiello), the pizzeria's Italian-American owner, has owned the restaurant and been in the neighborhood for twenty-five years. His older son, Giuseppe, better known as Pino (John Turturro), "detests the place like a sickness", holds racial contempt for the neighborhood blacks and attempts to make Mookie's life miserable. Sal's younger son, Vito (Richard Edson), is friends with Mookie.
The street corner is filled with distinct personalities, most of whom are just trying to find a way to deal with the intense heat on what is the hottest day in years and go about their regular day-to-day activities. Over the course of the day tensions rise around the neighborhood. Teenagers open a fire hydrant for respite from the heat, flooding a passer-by's car and police officers intervene.
That night, four teenagers arrive and Sal lets them in. After serving them, he closes. Suddenly, the teenagers accost Sal, killing him.  The police arrive at the scene, break up the fight, which is mow in the street in front of a crowd. An office puts one of the teenagers in a chokehold and accidentally kills him. The angry crowd chases the police and becomes a riotous mob, rushes into the restaurant and destroys everything, setting the restaurant on fire.
Director: Spike Lee
Year of Release: 1989

Character to watch: Danny Aiello as Salvatore 'Sal' Fragione.
Journal your answers to the following questions after you watch the movie.
How does this particular character's journey compare with yours?
Did the character develop certain characteristics during the movie that you have or that you would like to have? If so, what are those characteristics?
What obstacles did this character face? What was his or her biggest challenge?
What would you have done differently if you had been in the same position as the character?
Is this character the type of person you would be friends with? Why or why not?