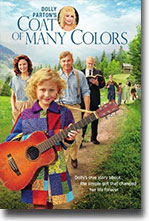 Based on the inspiring true story of living legend Dolly Parton's remarkable upbringing, this once-in-a-lifetime movie special takes us inside the tight-knit Parton family as they struggle to overcome devastating tragedy and discover the healing power of love, faith and a raggedy patchwork coat that helped make Dolly who she is today.
Over the years, many have attempted to bring this story to life, and now, finally, fans across America can experience the heartwarming tale of a courageous nine-year-old girl from Tennessee and the loving family that taught her the power of inner strength.
Director:  Stephen Herek
Year of Release: 2015

Character to watch: Jennifer Nettles as Avie Lee Parton
Journal your answers to the following questions after you watch the movie.
How does this particular character's journey compare with yours?
Did the character develop certain characteristics during the movie that you have or that you would like to have? If so, what are those characteristics?
What obstacles did this character face? What was his or her biggest challenge?
What would you have done differently if you had been in the same position as the character?
Is this character the type of person you would be friends with? Why or why not?