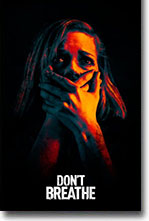 "Money" (Daniel Zovatto) is just about what you would expect in a criminal. A tatted up punk with a smart mouth who not only burglarizes expensive homes but takes the time to piss on the floor. Next is his girlfriend, "Rocky" (Jane Levy). The first thing you have to wonder is what's she doing with a thug like this.
There is not much backstory on their relationship but we do learn that Rocky is trying to earn enough money to take her kid sister and escape her meth-head of a mother and her neo-Nazi boyfriend. Finally, there's Alex (Dylan Minnette) whose father owns a security company. He has access to the various alarm codes which is how they break in the various homes. But what is a seemingly nice guy like this doing with this crew? Well, he has the hots for Rocky of course and hopes to escape dreary Detroit with her.
Tired of getting pennies on the dollar for their haul, Money finds out about a single military vet (Stephen Lang) who received a huge insurance payout when his young daughter was killed in a car accident. Supposedly, he has the money in cash somewhere in his house. His house is the only one occupied in an abandon urban neighborhood. Oh and he's blind. Easy pickings, right?
After a couple days casing the joint, they have to take out the massive Rottweiler who doesn't appear to be very friendly. So a little sleeping pill added to a hunk of meat will do the trick. Late at night or early morning the trio manage to get inside the house.

Essentially, the movie is a ramped up version of the old Audrey Hepburn movie Wait Until Dark. It's a robbers versus blind person movie but reworked for a decidedly more male audience. Audrey Hepburn had to deal with some rough trade in Wait Until Dark but nothing like the nuttiness Jane Levy gets into. Another big difference is that the movie takes all kinds of pains to explain certain things.
See Don't Breathe in the theaters and be prepared to have popcorn dumped on your lap a bunch of times. You'll be jumping around that much. It's one of those movies that's savored best thru the prism of communal experience. I was so tense throughout its running time and cringing and skittering out of my seat and bellowing at the screen, just like everyone else.
Director: Fede Alvarez
Year of Release: 2016

Character to watch: Jane Levy as Rocky.
Journal your answers to the following questions after you watch the movie.
How does this particular character's journey compare with yours?
Did the character develop certain characteristics during the movie that you have or that you would like to have? If so, what are those characteristics?
What obstacles did this character face? What was his or her biggest challenge?
What would you have done differently if you had been in the same position as the character?
Is this character the type of person you would be friends with? Why or why not?