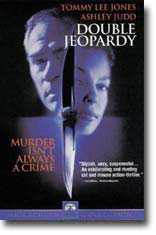 Young Libby Parsons (Ashley Judd) is happy as a clam, and why not? She's got a loving, successful husband (Bruce Greenwood), an adorable son, and an island home to die for. One morning, after a romantic sailing expedition with her husband, Libby finds herself covered in blood. Her husband's missing, the boat resembles a murder scene, and there's a knife on the deck.
One might stop right there and call for help; Libby, however, takes matters–or, more specifically, the knife–into her own hands, and the moment she does, there's the Coast Guard. Faster than you can say frame-up, Libby's been charged with murder and jailed, with her young son stripped from her custody.
It's all cut-and-dried, except for one thing: Libby's husband isn't dead, and she's about to track him down. And thanks to the Fifth Amendment's double jeopardy rule, she can't be charged twice for his murder.
Double Jeopardy has a singularly seductive revenge premise and, in Judd, one of the most seductive leading ladies to grace the silver screen in recent years. So then why does this thriller feel like it came from the bottom of the Lifetime television movie barrel? Instead of taking a gritty, hard-boiled approach, the film plays up all of Libby's mushy emotions–tellingly, the director here is Bruce Beresford.
No matter how stoically or deviously Judd plays her, Libby comes across as a soccer mom with a slight taste for blood. Only in a few scenes, specifically when she tracks her wily husband to his new identity in New Orleans, does Judd get to strut her stuff, stealing an evening gown and crashing his charity auction. Most of the time, though, this thriller offers only a smattering of suspense. Well, at least like Libby, the filmmakers can't be condemned twice for the same crime. With Tommy Lee Jones duplicating his Fugitive role, as Libby's conscientious parole officer.
Director:  Bruce Beresford
Year of Release: 1999

Character to watch: Ashley Judd as Libby Parsons.
Journal your answers to the following questions after you watch the movie.
How does this particular character's journey compare with yours?
Did the character develop certain characteristics during the movie that you have or that you would like to have? If so, what are those characteristics?
What obstacles did this character face? What was his or her biggest challenge?
What would you have done differently if you had been in the same position as the character?
Is this character the type of person you would be friends with? Why or why not?