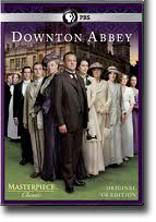 An addictive blend of suds and social commentary, ITV's Downton Abbey brings a microcosm of Edwardian society together under one roof. Lord Robert Crawley (Hugh Bonneville) and his family live a life of leisure, while a fleet of servants, including butler Carson (Jim Carter), attend to their every need, but two events conspire to shake things up: the sinking of the Titanic, which claims Crawley's heirs, and the return of his valet, Bates (Brendan Coyle).Since Crawley and Lady Cora (Elizabeth McGovern) have three daughters, his distant solicitor cousin, Matthew (Dan Stevens), becomes heir to the estate.
With that, the scheming begins, since Thomas the footman (Rob James-Collier) views Bates as an interloper and Crawley's mother, Violet (Maggie Smith), feels the same way about Matthew's mother, Isobel (Penelope Wilton).
In the tradition of the BBC's Upstairs Downstairs and Robert Altman's Gosford Park, for which writer-creator Julian Fellowes received an Academy Award, the royals, servants, and middle-class relations struggle to get along. Sniffs uptight maid Miss O'Brien (Siobhan Finneran), "Gentlemen don't work," but that doesn't stop Mary (Michelle Dockery) and Edith Crawley (Laura Carmichael) from competing for Matthew's affections. Though it takes awhile to warm up to the tightest-wound characters, most everyone reveals their more vulnerable side before the first season comes to an end, and a new small-screen classic is born.
The entire sprawling cast is quite wonderful, particularly Bonneville, Carter, and James-Collier, who provide a fascinating study in contrasts (the latter is downright dastardly). Unlike the version that aired on PBS's Masterpiece Classic, this set offers seven parts rather than four. Extras include a featurette, in which cast and crew discuss the production, and an introduction to Hampshire's Highclere Castle, which doubles for Downton Abbey. The first season was a phenomenon in the United Kingdom, and Fellowes has promised a second season set during World War I.

Character to watch: Elizabeth McGovern as Lady Cora.
Journal your answers to the following questions after you watch the series.
How does this particular character's journey compare with yours?
Did the character develop certain characteristics during the movie that you have or that you would like to have? If so, what are those characteristics?
What obstacles did this character face? What was his or her biggest challenge?
What would you have done differently if you had been in the same position as the character?
Is this character the type of person you would be friends with? Why or why not?