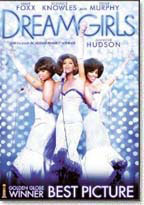 Backstage at an amateur talent show at the Detroit Theater in 1962, Cadillac salesman Curtis Taylor, Jr. (Jamie Foxx) meets a girl group known as "The Dreamettes" with lead singer Effie White (Jennifer Hudson), and back-up singers Deena Jones (Beyoncé Knowles), and Lorrell Robinson (Anika Noni Rose). Curtis presents himself as the Dreamettes' new manager and arranges for the Dreamettes to become backup singers for local R&B star Jimmy "Thunder" Early (Eddie Murphy).
Offstage, Effie becomes infatuated with the slick-talking Curtis, while the married Jimmy begins an affair with Lorrell. With the aid of new songs and a new more glamorous image, Curtis and C.C. transform The Dreams into a top selling mainstream pop act by 1965. However, Effie begins acting out, particularly when Curtis' affections turn towards Deena.
Curtis eventually drops Effie from the group, hiring his secretary, Michelle (Sharon Leal), to take her place. Eight years later, in 1973, Effie has become an impoverished welfare mother, living in inner-city Detroit with her daughter Magic. Meanwhile, Rainbow Records has moved to Los Angeles, where "Deena Jones & the Dreams" have become superstars.
The added entertaining fact about Dreamgirls is that there's an actual story behind the music, making this film much more watchable than many musicals which rely solely on their high notes rather than acting skill. This story is firmly entrenched in the early music industry as a "white-washed" form of entertainment, separating it from "black music"…until Curtis Taylor (Jamie Foxx), a car salesman in search of more, jumps into the music biz and launches his own record label (Rainbow Records). Foxx's Taylor character is another smashing success for him in that he makes this man both lovable and despised as he turns from caring manager to control freak.
Likewise, Murphy's Early character is someone who's moral ground we're never quite sure of. He's a married man with womanizing tendencies, but he's also a musical purist, trying to create sounds that are true to him while at the same time dismantling what he once was (a great, yet small, singing sensation). His fall from grace hits the viewer hard as heroin, time, and his own industry begin taking their toll.
Director: Bill Condon
Year of Release: 2006

Character to watch: Jennifer Hudson as Effie White.
Journal your answers to the following questions after you watch the movie.
How does this particular character's journey compare with yours?
Did the character develop certain characteristics during the movie that you have or that you would like to have? If so, what are those characteristics?
What obstacles did this character face? What was his or her biggest challenge?
What would you have done differently if you had been in the same position as the character?
Is this character the type of person you would be friends with? Why or why not?