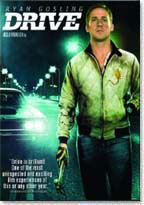 The unnamed Driver (Ryan Gosling) lives in a low-rent apartment building and works as a mechanic in a chop shop owned by Shannon (Bryan Cranston), and as a part-time movie stuntman. He also has a secret job as a getaway driver, organized by Shannon, where his rule is that he never works for the same people twice and only gives the criminals a five-minute window to complete their robbery, after which he will leave them behind.
One day, he meets his new neighbor Irene (Carey Mulligan) in the apartment building elevator and later helps her and her young son Benicio (Kaden Leos) when Irene has car trouble at a local supermarket. Shannon persuades the Jewish mobster Bernie Rose (Albert Brooks) to purchase a stock car for the Driver to race after seeing the Driver's skill.
Rose's friend and business partner is Nino, an aging Jewish mobster (Ron Perlman). Nino's friends once had Shannon's pelvis broken when Shannon overcharged him for a past job, leaving him with a permanent limp and braces on his hips. Irene has her car towed to Shannon's garage and the Driver gives her and Benicio a ride home.
The Driver takes a great interest in Irene and Benicio by driving them around and taking them to places like the L.A. river. The Driver begins spending more and more time with Irene and Benicio, and later meets Irene's husband, Standard (Oscar Isaac), when he is paroled from prison. The Driver is devastated when he finds out Standard was coming home because it ends his dream of creating a life with Irene and Benicio.
Director: Nicolas Winding Refn
Year of Release: 2011

Character to watch: Ryan Gosling as Driver.
Journal your answers to the following questions after you watch the movie.
How does this particular character's journey compare with yours?
Did the character develop certain characteristics during the movie that you have or that you would like to have? If so, what are those characteristics?
What obstacles did this character face? What was his or her biggest challenge?
What would you have done differently if you had been in the same position as the character?
Is this character the type of person you would be friends with? Why or why not?