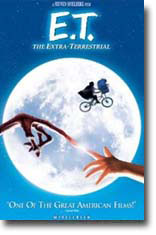 Steven Spielberg's 1982 hit E.T.: The Extra-Terrestrial about a stranded alien and his loving relationship with a fatherless boy named Elliot (Henry Thomas) struck a chord with audiences everywhere, and it furthered Spielberg's reputation as a director of equally strong commercial sensibilities and classical leanings.
Thomas gives a strong, emotional performance as E.T.'s young friend, Robert MacNaughton and Drew Barrymore make a solid impression as his siblings Michael and Gertie, and Dee Wallace is lively as the mother, Mary. The special effects almost look a bit quaint now with all the computer advancements that have occurred since, but they also have more heart behind them than a lot of what we see today.
While visiting the earth at night, a group of alien botanists is discovered and disturbed by an approaching human task force. Because of the more than hasty take-off, one of the visitors is left behind. The little alien finds himself all alone on a very strange planet. Fortunately, the extra-terrestrial soon finds a friend and emotional companion in 10-year-old Elliot, who discovered him looking for food in his family's garden shed.
While E.T. slowly gets acquainted with Elliot's brother Michael, his sister Gertie as well as with earth customs, members of the task force work day and night to track down the whereabouts of earth's first visitor from outer space.
The wish to go home again is strong in E.T., and after being able to communicate with Elliot and the others, E.T. starts building an improvised device to send a message home for his folks to come and pick him up. But before long, E.T. gets seriously sick, and because of his special connection to Elliot, the young boy suffers, too. The situation gets critical when the task force finally intervenes. By then, all help may already be too late, and there's no alien spaceship in sight.
Director:  Steven Spielberg
Year of Release: 1982

Character to watch: Dee Walace as Mary.
Journal your answers to the following questions after you watch the movie.
How does this particular character's journey compare with yours?
Did the character develop certain characteristics during the movie that you have or that you would like to have? If so, what are those characteristics?
What obstacles did this character face? What was his or her biggest challenge?
What would you have done differently if you had been in the same position as the character?
Is this character the type of person you would be friends with? Why or why not?