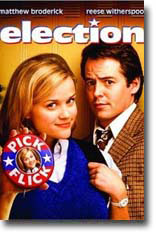 Matthew Broderick makes up for years of wet-noodle performances with his low-key but unsparing characterization of Jim McAllister, a high school teacher at George Washington Carver High School in Omaha, Nebraska. Driven by a strange mixture of loathing and lust for pathologically overachieving student Tracy Flick (Reese Witherspoon), McAllister encourages a dim but popular athlete, Paul (Chris Klein), to run against her in the election for student-council president.
Director Alexander Payne turns this deceptively simple premise into a complex and scathing comedy of ambition, corruption, and desire, all at its most naked and petty. Every scene contains some painfully funny nuance that will make you wince in a mixture of astonishment and empathy.
Witherspoon flips effortlessly back and forth from adolescent vulnerability to steely-eyed strength. The movie itself feels like a magnificent throwback to the richly layered comedies of the 1930s, which drew their humor from sharply drawn characters and twisting plots instead of explosions of bodily fluids. With a wealth of smart, cutting details, Election rewards multiple viewing.
Election is one of the most intelligently-written, original and well-acted films to come out in years. The storytelling is never predictable or conventional, yet everything that happens feels honest and correct. The characters are far more fully-developed than most Hollywood comedies.
In the beginning, you expect Broderick to be the hero and Witherspoon to be the villain, but the former does some despicable things, and the latter proves to be somewhat sympathetic. Although Election is a comedy (and a very funny one at that), it makes more valid and honest observations about human nature than most serious films.
Director:  Alexander Payne
Year of Release: 1999

Character to watch: Reese Witherspoon as Tracy Flick.
Journal your answers to the following questions after you watch the movie.
How does this particular character's journey compare with yours?
Did the character develop certain characteristics during the movie that you have or that you would like to have? If so, what are those characteristics?
What obstacles did this character face? What was his or her biggest challenge?
What would you have done differently if you had been in the same position as the character?
Is this character the type of person you would be friends with? Why or why not?