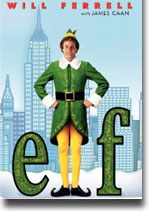 Buddy (Will Ferrell) was a baby in an orphanage who stowed away in Santa's sack and ended up at the North Pole. Later, as an adult human who happened to be raised by elves, Santa (Ed Asner) allows him to go to New York City to find his birth father, Walter Hobbs (James Caan). Hobbs, on Santa's naughty list for being a heartless jerk, had no idea that Buddy was even born.
Buddy, meanwhile, experiences the delights of New York City (and human culture) as only an elf can. When Walter's relationship with Buddy interferes with his job, he is forced to reevaluate his priorities.
A human baby ends up on the north pole and grows up among the elf community that supports Santa Claus. Buddy, as he comes to be known, knows that he's "special" however, since he can't keep up with the other elves. Never mind the fact that he's about three times as tall as any of them and barely fits in the shower.
When he's 30, and still young by Elf standards, he learns that he's really a human. Buddy decides to go in search of his father (who's on Santa's naughty list), to find out where he belongs. He walks to New York (through the Lincoln tunnel), and is immediately run over by a cab. The chain of events starts at that moment.
Buddy is a delightful and enchanting character with many special talents and a childish personality. He is naive to the point of stupidity, but charming all the while. His lovable demeanor gains him friends in spite of his clumsy efforts. He is sweet, kind and generous. When his father at first rejects him, Buddy ends up in a department store where other elves (people who pretend to be Santa's elves) are working, and stays up all night to decorate the place. When the department store Santa isn't the real Santa, well, you can guess what happens.
Buddy eats spaghetti covered in syrup, smarties and pop tarts; he gets drunk in the mail room of his father's office and his young half-brother shows him to ask a girl out on a date. But all the while, things are looking bad for Santa Claus (and also Buddy's father). How will Buddy rescue the day? When Santa crashes his sleigh in Central Park, it's Buddy's moment to shine. Abstract, enchanting, child-like madness all make up this beautiful movie. Absolutely delightful and recommended to viewers of all ages. If you want a Christmas feel-good movie, this is it.
Director: Jon Favreau
Year of Release: 2004

Character to watch: Will Ferrell as Buddy the Elf.
Journal your answers to the following questions after you watch the movie.
How does this particular character's journey compare with yours?
Did the character develop certain characteristics during the movie that you have or that you would like to have? If so, what are those characteristics?
What obstacles did this character face? What was his or her biggest challenge?
What would you have done differently if you had been in the same position as the character?
Is this character the type of person you would be friends with? Why or why not?