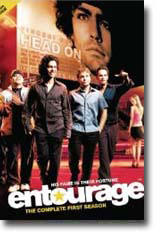 In this sitcom, the suddenly risen film star Vince Chase (Adrian Grenier), a 'jeune premier' of humble origins, learns the ropes of the business and the the high-profile world of the wealthy happy few in and around Hollywood, but not alone: he brings from his native New York his atypical 'entourage (hence the title), not glitterati or professionals but a close circle of friends since childhood, and his professional agent finds they often make his job harder as the Queens boys not only sponge on the star but also have his ear, so Vince is much harder to counsel.Vince chooses his friend from home Eric Murphy (Kevin Connolly) as his manager, and LA professional Ari Gold (Jeremy Piven) as his agent. Over the course of the season, they progress from kids from Queens, to actors, to producers and chase the funding and support to try to make the perfect movie for Vincent.
Along the way Eric contends with the predictable self-doubt, romantic indecision, etc. The cast is rounded out by Piven as a foul-mouthed agent reminiscent of Jay Mohr's short-lived Peter Dragon character. Finally, it's produced by Marky Mark himself–and you've got to believe that guy knows something about the star-entourage relationship. If possible, watch with a friend so you'll have someone to quote lines back to later.
Fame, fortune, luxury, and letting it all go to your head; agents, managers, publicists, and everyone else that will lie, cheat, or steal to get a piece of you; and remembering your real friends. These are all key ingredients that make "Entourage" thoroughly entertaining, as well as freighting when you think about how it's based on reality.
The superficial world that is the entertainment business is navigated successfully through the four different personalities that make up the entourage. The four personalities of the Rising Star, Has-Been, Bum, and Level-headed Average Guy balance out the cast and provide a character for everyone to enjoy or relate to. Their friendship and their dependence on each other make the characters a success, as well as a success in the world of the show.

Character to watch: Kevin Connolly as Eric Murphy.
Journal your answers to the following questions after you watch the series.
How does this particular character's journey compare with yours?
Did the character develop certain characteristics during the movie that you have or that you would like to have? If so, what are those characteristics?
What obstacles did this character face? What was his or her biggest challenge?
What would you have done differently if you had been in the same position as the character?
Is this character the type of person you would be friends with? Why or why not?