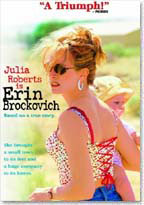 Erin Brockovich (Julia Roberts) is an unemployed single mother of three children. She has recently been injured in a traffic accident and is suing the man who hit her. Her lawyer, Ed Masry (Albert Finney), expects they will win, but Erin's bad attitude in the courtroom causes her to lose her case. Erin blames Ed and forces him to give her a job as a file clerk in his office.
While working for Ed, Erin sees the files for a case in which Pacific Gas and Electric (PG&E) is offering to purchase the home of Donna Jensen. Erin visits Donna, who explains that she has had several tumors and her husband has Hodgkin's disease. Erin soon discovers that many other residents have tumors and other medical problems. She begins to suspect that PG&E has contaminated the local water with dangerous hexavalent chromium.
Roberts outdoes herself in yet another David and Goliath struggle based on a true story. Erin Brockovich (Roberts) is a down-on-her-luck mother of three who can't seem to hold down a job. After having an auto accident, she makes a bumpy transition from client to employee at the law firm and stumbles onto a case with staggering implications. It seems that utility giant PG&E has poisoned the groundwater and the local residents are getting gravely ill.
The story starts poorly with scenes of Erin looking for jobs and botching her accident case. The first twenty minutes of the film could have been condensed into five. However, once the investigation of the case begins, the story is engrossing. It is a powerful and well written human interest drama centered on a tough and smart (though crude) woman who leads a passionate crusade on behalf of the victims.
Director: Steven Soderbergh
Year of Release: 2000

Character to watch: Julia Roberts as Erin Brockovich.
Journal your answers to the following questions after you watch the movie.
How does this particular character's journey compare with yours?
Did the character develop certain characteristics during the movie that you have or that you would like to have? If so, what are those characteristics?
What obstacles did this character face? What was his or her biggest challenge?
What would you have done differently if you had been in the same position as the character?
Is this character the type of person you would be friends with? Why or why not?