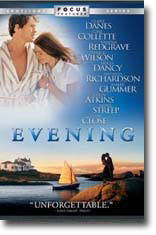 A diverse cast brings richness and texture to Evening, a lyrical tale of regret, unrequited love, and hope, based on the book by Susan Minot. The movie opens as Ann Grant Lord (Vanessa Redgrave) lies ill, deliriously remembering when she came to the summer home of her best friend Lila (Mamie Gummer) to be Lila's maid of honor (her younger self is played by Claire Danes).
But the young Ann is soon caught between the hungry need of Lila's brother Buddy (Hugh Dancy) and the magnetic outsider Harris (Patrick Wilson). Meanwhile, the elderly Ann is watched by her two daughters, Nina (Toni Collette) and Constance (Natasha Richardson), who wrestle with unresolved feelings towards their mother, their choices in life, and each other.
Ann is dying in her home by the ocean and her medication and memories allow her to share a man's name – 'Harris' – with her two grown daughters Nina (Toni Colette) and Constance (Natasha Richardson). As her daughters sit at her bedside Ann relives that particular summer when she was a bridesmaid for Lila, a marriage she and Lila's alcoholic brother Buddy objected to, feeling that Lila was simply marrying a man of her class instead of the boy she had loved – Harris Arden (Patrick Wilson), her housekeeper's son who had become a physician.
Harris, Buddy, Lila, and Ann are woven together in a series of infatuations and romances that have been kept secret until now, 50 years later, as Ann is dying. The older Lila (Meryl Streep) visits Ann at the end and the secrets are revealed,
Evening starts off feeling a bit stiff and literary, but gradually finds its rhythm. While the emotional peaks and precious images feel fleeting, the little ephemeral moments–the heartbreaks, yearnings, disappointments, and comforts, the flash of a smile or the widening of an eye–glimmer with warmth and honesty. It's rare that such restraint can be so compelling and so rewarding; Evening is well worth watching for the accumulating emotional power of these small moments.
Director: Lajos Koltai
Year of Release: 2007

Character to watch: Clare Danes as Ann Grant Lord.
Journal your answers to the following questions after you watch the movie.
How does this particular character's journey compare with yours?
Did the character develop certain characteristics during the movie that you have or that you would like to have? If so, what are those characteristics?
What obstacles did this character face? What was his or her biggest challenge?
What would you have done differently if you had been in the same position as the character?
Is this character the type of person you would be friends with? Why or why not?