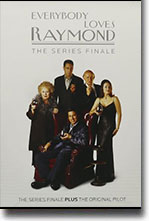 Ray Barone (Ray Romano) seemingly has it all. A wonderful wife (Patricia Heaton as Debra Barone), a beautiful family, a great job, a nice house on Long Island. There's only one problem. His obnoxious parents (Brad Garrett and Doris Roberts) who live across the street and his jealous brother (Brad Garrett) are always getting in the way.
I always felt that some of the best episodes in this series were the ones that were funny, but also had a twinge of emotion mixed in. It would be a stretch to say that Ray and Debra exhibited a lot of sensitive and dramatic moments together.
Then again, it would also be incorrect to say that these things were nonexistent in the show–in fact, there was arguably a fairly generous spoonful of them placed over the show's 9-year run. In any case, the final episode showcases some interactions between the two that were never shown quite as sweetly at any other time in the show, and the creators made a smart move by bowing out with this special tone while still maintaining the classic humor we've come to love.
The final season of Raymond, as a whole, was surprisingly hilarious and memorable for a series that has been on the air for nine years. They really did an impeccable job at keeping it real with genuine and funny episodes. In the finale, Ray's visit to the hospital for some minor surgery suddenly turns into a dramatic near-death experience. The scare lasts only about 30 seconds, but it is enough to upset the family.
The episode goes down the emotional road with the noticeably more affectionate behavior Debra exhibits toward Ray the night after his surgery, along with the rare affection that Ray returns to her and, representing an even larger rarity, the fear in Frank's eyes when he realized he almost lost his younger son. Sounds very emotional, but they balance it out with the hilarity by showing Ray and Marie's reactions when they find out that Ray almost died.

Character to watch: Ray Romano as Ray Barone.
Journal your answers to the following questions after you watch the series.
How does this particular character's journey compare with yours?
Did the character develop certain characteristics during the movie that you have or that you would like to have? If so, what are those characteristics?
What obstacles did this character face? What was his or her biggest challenge?
What would you have done differently if you had been in the same position as the character?
Is this character the type of person you would be friends with? Why or why not?