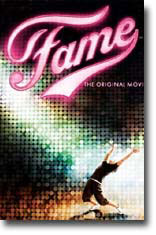 At the New York City High School for the Performing Arts, students get specialized training that often leads to success as actors, singers, and other artists. This movie follows four students from the time when they audition to get into the school, through graduation. They are the brazen Coco Hernandez (Irene Cara), shy Doris Finsecker (Tresa Hughes), sensitive gay Montgomery MacNeil (Paul McCrane), and brash, abrasive Raul Garcia (Barry Miller).
During the auditions, several of the teachers are also introduced. They include the music teacher Mr. Shorofsky (Albert Hague); English and reading teacher Mrs. Sherwood (Anne Meara); dance and ballet teacher Miss Berg (Joanna Merlin); drama teacher Mr. Farrel (Jim Moody); and dance teacher and former dancer Ms. Grant (Debbie Allen).
The movie then spans four years among the students and teachers lives told as four seperate consecutive 30-35 minute episodes each spanning over several months. During their freshman year, the new students learn on the first day of classes that academics are weighted equally with performance. Leroy clashes with Mrs. Sherwood in English class over his reluntance to learn every new topic.
The naive and innocent Doris is overwhelmed by the energy and spontaneity in the lunchroom and flees, meeting Montgomery. Doris and Montgomery become friends, and Doris worries that she's too ordinary against the colorful personalities of the other students. As the year progresses, Coco tries to convince Bruno to book performing gigs with her. During a night on the town, Coco tells Bruno of her belief that she's "doing my last dance on this dark little planet" so it has to be spectacular.
Director: Alan Parker
Year of Release: 1980

Character to watch: Irene Cara as Coco Hernandez.
Journal your answers to the following questions after you watch the movie.
How does this particular character's journey compare with yours?
Did the character develop certain characteristics during the movie that you have or that you would like to have? If so, what are those characteristics?
What obstacles did this character face? What was his or her biggest challenge?
What would you have done differently if you had been in the same position as the character?
Is this character the type of person you would be friends with? Why or why not?