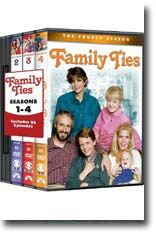 Steven (Michael Gross) and Elyse (Meredith Baxter) Keaton were two hippies with liberal viewpoints who had married during the 1960s. The young couple had hoped their children would adopt the same values.
How wrong they were, especially in the case of oldest son Alex (Michael J. Fox). "Family Ties," which was based in Columbus, Ohio, explored the relationship between Steven (a public television station manager), Elyse (an architect) and their three children, Alex, Mallory (Justine Bateman) and Jennifer (Tina Yothers).Though all three children had espoused conservative viewpoints, one child, 16-year-old Alex, was ever so much more outspoken than the other two. Alex was an avid Reagan devotee and card-carrying Young Republicans Club member who sauntered through the house in a shirt and tie and hung a picture of William F. Buckley over his bed.
As intelligent and over-achieving as Alex was, Mallory was as underachieving and, to say the least, a slacker; she was more concerned with shopping and cute guys. Jennifer was the precocious youngster who just wanted to be a normal kid (and excepting for her Republican-like views, was for the most part). Skippy Handleman (Marc Price), one of Alex's best friends, was a geeky next-door neighbor with an unrequited crush on Mallory.
Meanwhile, Mallory (who was always in serious danger of flunking out of high school) found love in the form of Rambo-wannabe and high school-dropout Nick Moore (Scott Valentine), of whom Steven and Elyse (at least initially) strongly disapproved; Alex disliked the motorcycle-riding Nick even more.
With amazing, laugh out-loud humor, not many shows can make you cackle like Family, with irony, not meanness and wit, not barbs. It is amazing how well the show holds up over time. Family Ties was the real family show-not in a exclusionary, conservative, "family values" way, but showing the need we all have to be connected to those who love and understand us, warts and all. This show has universal appeal.

Character to watch: Michael J. Fox as Alex P. Keaton.
Journal your answers to the following questions after you watch the series.
How does this particular character's journey compare with yours?
Did the character develop certain characteristics during the movie that you have or that you would like to have? If so, what are those characteristics?
What obstacles did this character face? What was his or her biggest challenge?
What would you have done differently if you had been in the same position as the character?
Is this character the type of person you would be friends with? Why or why not?