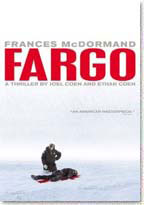 In the winter of 1987, Minneapolis automobile salesman Jerry Lundegaard (William H. Macy) is in financial trouble. Jerry is introduced to criminals Carl Showalter (Steve Buscemi) and Gaear Grimsrud (Peter Stormare) by Native American ex-convict Shep Proudfoot (Steve Reevis), a mechanic at his dealership.
Jerry travels to Fargo, North Dakota, and hires the two men to kidnap his wife Jean (Kristin Rudrüd) in exchange for a new 1987 Oldsmobile Cutlass Ciera and half of the $80,000 ransom. However, Jerry intends to tell his wealthy father-in-law Wade Gustafson (Harve Presnell) that the ransom demand is $1,000,000, and keep most of the money for himself.
GMAC has been threatening to recall loans made for cars at the dealership Jerry manages after discovering accounting irregularities. Jerry has been trying to raise money by promoting a real estate deal to Wade. Jerry tries to call off the kidnapping after he thinks Wade has agreed to the investment, but he is too late. As it turns out, Wade intends to buy the property himself and give Jerry only a finder's fee that is insufficient to pay off his debts.
Carl and Gaear kidnap Jean, but on their way through Brainerd a Minnesota State Patrol officer stops them because the car lacks license plates. When Carl's attempt to bribe the trooper fails, Gaear kills the trooper. As Carl is moving the trooper's body off the road, he is seen by a couple passing by in their car. Gaear chases the couple, who lose control of their car and swerve off the road, enabling Gaear to kill them.
The deaths are investigated by local police chief Marge Gunderson (Frances McDormand), who is seven months pregnant. She deduces the chain of events and follows the leads that arise, including interviewing two prostitutes who serviced the criminals and tracing the license plates on their vehicle to Jerry's dealership. After being informed that the criminals telephoned Shep Proudfoot, she drives to Minneapolis but acquires no information in interviews with Shep and Jerry.
Director: Joel Coen, Ethan Coen
Year of Release: 1996

Character to watch: Frances McDormand as Marge Gunderson.
Journal your answers to the following questions after you watch the movie.
How does this particular character's journey compare with yours?
Did the character develop certain characteristics during the movie that you have or that you would like to have? If so, what are those characteristics?
What obstacles did this character face? What was his or her biggest challenge?
What would you have done differently if you had been in the same position as the character?
Is this character the type of person you would be friends with? Why or why not?