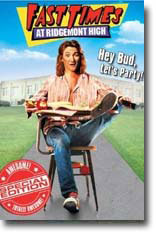 Sean Penn leads an all-star cast (Jennifer Jason Leigh, Phoebe Cates, Judge Reinhold, Ray Walston) in this hilarious portrayal of a group of southern California high school students and their most important subjects: sex, drugs and rock 'n' roll. Amy Heckerling's directorial debut brings to life first-time screenwriter Cameron Crowe's insider's view of teenage American life in the 1980's. The movie features decade-defining music from The Go-Go's, Oingo Boingo and The Cars.
The film follows a group of high school students growing up in southern California, based on the real-life adventures chronicled by Cameron Crowe. Stacy Hamilton (Leigh) and Mark Ratner (Brian Backer) are looking for a love interest, and are helped along by their older classmates, Linda Barrett (Cates) and Mike Damone (Rober Romanus), respectively.
The center of the film is held by Jeff Spicoli (Penn), a perpetually stoned surfer dude who faces off with the resolute Mr. Hand (Ray Walston), who is convinced that everyone is on dope.
One of the classic high school movies, Fast Times spawned a slew of teenage talent on the big screen, but no one was more memorable in this movie than Penn as Spicoli. Amy Heckerling cuts out a slice of Southern Californian life from a San Bernardino high school that shows both honor students and misfits alike.
While the signature moments belonged to Spicoli, there were many other great scenes such as the ongoing burger war in which Reinhold finds himself on the short end of the spatula. Meanwhile his little sis, a seemingly innocent Leigh, experiments with dating and sex with an amusing pair of misfits, Backer and Romanus.
Phoebe Cates tries to set her young prodigy straight but to no avail. Forest Whitaker even has a significant moment in this movie as the bruising defensive lineman who takes out the destruction of his prized car on the opposing team. Little did he know that Spicoli had a hand in it. But, it is the hilarious relationship between Spicoli and Mr. Hand that steals the show. Fast Times may appear a bit dated, but it hasn't lost any of its humor.
Director:  Amy Heckerling
Year of Release: 1982

Character to watch: Sean Penn as Jeff Spicoli.
Journal your answers to the following questions after you watch the movie.
How does this particular character's journey compare with yours?
Did the character develop certain characteristics during the movie that you have or that you would like to have? If so, what are those characteristics?
What obstacles did this character face? What was his or her biggest challenge?
What would you have done differently if you had been in the same position as the character?
Is this character the type of person you would be friends with? Why or why not?