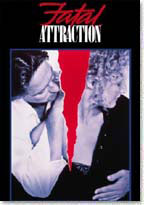 Dan Gallagher (Michael Douglas) is a successful, happily married New York attorney living in Manhattan when he meets Alexandra "Alex" Forrest (Glenn Close), an editor for a publishing company, through business.
While his wife, Beth (Anne Archer), and daughter, Ellen (Ellen Hamilton Latzen), are out of town for the weekend, he has a passionate affair with Alex. Though he thought it was understood to be a simple fling, she begins clinging to him.
Dan explains that he must go home and Alex cuts her wrists in a suicide attempt. He helps her to bandage them and later leaves. He thinks the affair is forgotten, but she shows up at various places to see him. She waits at his office one day to apologize and invite him to the opera, but he turns her down. She then continues to telephone until he tells his secretary that he will no longer take her calls. She then phones his home at all hours, and then confronts him saying that she is pregnant and plans to keep the baby.
Although he wants nothing to do with her, she argues that he must take responsibility. She shows up at his apartment (which is for sale) and meets Beth, feigning interest as a buyer. Later that night, he goes to her apartment to confront her about her actions which results in a violent scuffle. In response, she replies that she will not be ignored.
Dan moves his family to Bedford, but this doesn't deter Alex. She has a tape recording delivered to him filled with verbal abuse. She stalks him in a parking garage, pours acid on his vehicle, and follows him home one night to spy on him, Beth, and Ellen from the bushes in their yard; the sight of their family life literally makes her sick to her stomach.
Her obsession escalates further. Dan approaches the police to apply for a restraining order against her (claiming that it is "for a client"), to which the lieutenant claims that he cannot violate her rights without probable cause and that the adulterer has to own up to his adultery.
Director: Adrian Lyne
Year of Release: 1987

Character to watch: Glenn Close as Alex Forrest.
Journal your answers to the following questions after you watch the movie.
How does this particular character's journey compare with yours?
Did the character develop certain characteristics during the movie that you have or that you would like to have? If so, what are those characteristics?
What obstacles did this character face? What was his or her biggest challenge?
What would you have done differently if you had been in the same position as the character?
Is this character the type of person you would be friends with? Why or why not?