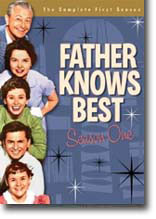 It's telling that this family favorite began on radio as Father Knows Best? When the show came to CBS in 1954, the question mark disappeared. Contrary to popular opinion, however, Springfield, Ohio, insurance agent Jim Anderson (Robert Young) doesn't have all the answers.He and his wife, Margaret (Jane Wyatt), come close, though. Were the show in production now, Anderson wouldn't smoke, but Father Knows Best reflects the standards of its time–separate beds and all.
The sweet-natured pilot sets the tone when 14-year-old Bud (Billy Gray) frets about the school dance until Jim arranges for his 17-year-old sister, Betty (Elinor Donahue), to show him some steps. Other storylines revolve around community service and feeling needed, while "Thanksgiving Day" offers a glimpse of Jim's imperfect side when he dismisses a poem written by nine-year-old Kathy (Laurin Chapin), who overhears him; he realizes he was holding Kitten to impossible standards. As Chapin notes in the bonus interview (in which Donahue also features), the primary themes were cooperation and forgiveness.
Naysayers can knock Father Knows Best for being square, but it espouses timeless values. And who's to say the lingo wasn't hip for the 1950s? Colorful examples include "goobers," "criminy," "creepers," "knot-head," and "simply utterly."
On the downside, these 26 episodes appear in unrestored, syndicated condition. Fortunately, the show doesn't look too bad for its age and abundant extras compensate, like special 1959 savings bond episode 24 Hours in Tyrantland and Young's home movies and behind-the-scenes footage, both with low-key narration by grandson Bill Proffitt.
After Young put Father Knows Best to rest, he segued to 1960's Window on Main Street (this set includes the pilot) before scoring another hit with Marcus Welby, M.D.. Donahue followed suit with The Andy Griffith Show and Wyatt with Star Trek.

Character to watch: Robert Young as Jim Anderson.
Journal your answers to the following questions after you watch the series.
How does this particular character's journey compare with yours?
Did the character develop certain characteristics during the movie that you have or that you would like to have? If so, what are those characteristics?
What obstacles did this character face? What was his or her biggest challenge?
What would you have done differently if you had been in the same position as the character?
Is this character the type of person you would be friends with? Why or why not?