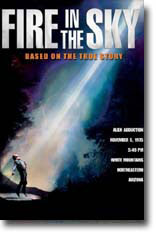 Based on the supposedly true account of alien abductee Travis Walton, Fire in the Sky is creepily effective in it's storytelling and presentation. D.B. Sweeney plays the logger who, along with his co-workers, witnesses bizarre lights hovering in the sky. Walton attempts to get a closer look, and is seemingly beamed aboard and never seen again until five days later.
While the events in the film differ from Walton's own account, Fire in the Sky manages to get under your skin once Walton has a flashback of the events that transpired aboard the spaceship. The alien beings are surprisingly well designed, and the ordeal Walton goes through will make your skin crawl despite the film's PG-13 rating. It's not perfect, but the cast (Robert Patrick, Peter Berg, Craig Sheffer, and James Garner) makes it work. All in all, if you are one of the many people who zone out to the X-Files and UFO phenomena, give this a look.
Walton participated in the movie production but accepted a completely different presentation of the abduction sequence than his book presents. His book's version, supposedly what really happened, would not have been as interesting.
If you had been abducted, would you care that Hollywood used your story as input for a yarn that distorted what the aliens were like or would you want people to see what really happened. I wonder if many people who saw the movie didn't read the book and so came away not knowing how the aliens actually seemed to Walton.
Director: Robert Lieberman
Year of Release: 1993

Character to watch: D.B. Sweeney as Travis Walton.
Journal your answers to the following questions after you watch the movie.
How does this particular character's journey compare with yours?
Did the character develop certain characteristics during the movie that you have or that you would like to have? If so, what are those characteristics?
What obstacles did this character face? What was his or her biggest challenge?
What would you have done differently if you had been in the same position as the character?
Is this character the type of person you would be friends with? Why or why not?