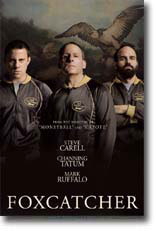 A troubled, but extremely rich man John du Pont (Steve Carrell) in his late 40s who is seldom told no. DuPont is an heir to one of the United States' most storied and venerable fortunes. His opulent, secluded Pennsylvania farm and the top-notch wrestling facility he has constructed there.
His self-indulgent dream of achieving personal patriotic glory by financing and training an Olympic team. And two brothers—both Olympians—drawn into his orbit of delusion for financial gain and, for one, because his previously promising career is fading. These ingredients ignite in Foxcatcher, a fascinating and grim true-crime drama with outsize concerns (economic inequality, mental illness, the United States of America) and the depth and grit required to sustain and explore them.
This is the best film Bennett Miller has directed so far, eclipsing the very fine duo of Capote and Moneyball. For over two hours, he fashions an unyielding atmosphere of unease. Tools at his disposal in this regard include overcast rural vistas, photographed so as to maximize the sense of frosted isolation, and the elegant intertwining of minimalist piano music and creeping silences. He also slowly, but confidently shades and illuminates the trio of stranger-than-fiction characters under his microscope, bringing their various bonds (brother and brother, coach and athlete, master and servant) into ever sharper focus. His actors do not fail him.
They may not strongly resemble one another, but Mark Ruffalo and Channing Tatum are convincing as siblings. They at once care for, respect, and resent the other the way family members often do; their very physical movements indicate a shared lifetime of traumas and triumphs and a resulting bond beyond words. The former is a charming and genuine presence as a paragon of athletic and domestic stability, the latter a volatile force of nature adrift in unproductive masculine angst and therefore ripe for manipulation.
The character of John is complex and hard to describe. He is menacing, yet also vulnerable. He is shy and stunted, yet clearly desperate to exhibit entrepreneurial confidence and flair. (A self-loathing master of the universe?) He is an aficionado—an avid fan of freestyle wrestling, a published ornithologist, a stamp collector—but never masters an interest or discipline, though he pays people to pretend he has.
Such contradictions and tensions are reflected in a performance which is grotesque and, in the strangest way, touching; we are tempted to understand and sympathize with this most peculiar man as he edges closer to the point of no moral return, but he is too frightening to let in for long. The actor and the screenplay hint at potential justifications and motives for his behavior, ranging from an overbearing matriarch (played briefly and sharply by Vanessa Redgrave) to the psychological impact of unimaginable wealth as a birthright, while also preserving a certain haunting and tantalizing air of the inexplicable.
Director: Bennett Miller
Year of Release: 2014

Character to watch: Steve Carrell as John du Pont.
Journal your answers to the following questions after you watch the movie.
How does this particular character's journey compare with yours?
Did the character develop certain characteristics during the movie that you have or that you would like to have? If so, what are those characteristics?
What obstacles did this character face? What was his or her biggest challenge?
What would you have done differently if you had been in the same position as the character?
Is this character the type of person you would be friends with? Why or why not?