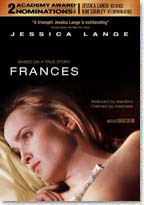 Born in Seattle, Washington, Frances Farmer (Jessica Lange) was a rebel from a young age, winning a high school award by writing an essay called "God Dies" in 1931. Later that decade, she became controversial again when she won an all-expenses-paid trip to the USSR in 1935.
Determined to become an actress, Frances was equally determined not to be a typical starlet so she refused to do publicity stunts and insisted upon appearing on screen without makeup. Her antics attracted the attention of Broadway playwright Clifford Odets (Jeffrey DeMunn), who convinced Frances to try performing in the theatre.
When Frances left Hollywood for New York City, she soon learned that Broadway would exploit her fame to attract more theatre goers. She then attempted to restart her film career, but her increased dependence on alcohol combined with other pressures resulted in a nervous breakdown.
While institutionalized during the 1940s, Frances was abused by the staff, forced to undergo insulin and electroshock, was cruelly beaten, repeatedly raped by the male orderlies and visiting soldiers, and was eventually involuntarily lobotomized.
Director:  Graeme Clifford
Year of Release: 1982

Character to watch: Jessica Lange as Frances Farmer.
Journal your answers to the following questions after you watch the movie.
How does this particular character's journey compare with yours?
Did the character develop certain characteristics during the movie that you have or that you would like to have? If so, what are those characteristics?
What obstacles did this character face? What was his or her biggest challenge?
What would you have done differently if you had been in the same position as the character?
Is this character the type of person you would be friends with? Why or why not?