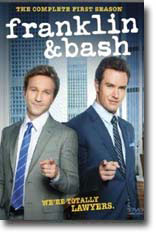 In the first of the 10 episodes (on three discs) that comprise the debut season of the TNT series Franklin & Bash, attorneys and best buds Jared Franklin (Breckin Meyer) and Peter Bash (Mark-Paul Gosselaar) represent a prostitute who, at their urging, starts to disrobe in court.In episode two, they're retained by a beautiful woman who the prosecution claims "copulated her husband to death"; in episode three, Bash makes out with their client (a woman who says she lost her job at a skin magazine because she was "too sexy") while she's on the witness stand.
We can conclude the following: Franklin & Bash, the show and the characters, are preoccupied with sex (well, not every episode is about that–just most of them, including the ones in which the guys defend a couple of pole dancers and a teacher accused of sleeping with a student); even by TV-lawyer standards, this show has almost nothing to do with actual legal procedure (if the stories, like Law & Order's, are "ripped from the headlines," the headlines were in Penthouse or Hustler); and, most important, it's funny, smart, and consistently entertaining.
In the pilot episode, the boys so impress opposing counsel Stanton Infeld (Malcolm McDowell, thoroughly enjoying himself) that the eccentric millionaire invites them to join his mega-firm ("as lawyers?" Bash asks).
Which they do, of course, but only on the condition that they can continue practicing law in their own peculiar way. "Our job is not to follow the law," quoth Franklin, "[it's] to make the law." They also make a few enemies, including Infeld's lawyer nephew Damien (Reed Diamond), as well as friends (another lawyer, played by Garcelle Beauvais, takes a shine to Jared).
Most of all, they have a good time, playing video games, constantly spewing pop-culture references, jumping into the hot tub with scantily clad lovelies, and generally being cheeky and irreverent. Guest stars include Jason Alexander, Tom Arnold, Beau Bridges, Fred Willard, and James Van Der Beek; among the bonus features are a gag reel, some short featurettes, and a few fake Franklin & Bash law-firm commercials.

Character to watch: Breckin Meyer as Jared Franklin.
Journal your answers to the following questions after you watch the series.
How does this particular character's journey compare with yours?
Did the character develop certain characteristics during the movie that you have or that you would like to have? If so, what are those characteristics?
What obstacles did this character face? What was his or her biggest challenge?
What would you have done differently if you had been in the same position as the character?
Is this character the type of person you would be friends with? Why or why not?