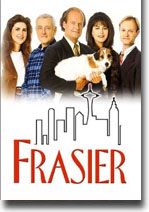 Eminent Boston Psychiatrist, Frasier Crane, last seen gracing the bars of Cheers has left his life there to start afresh in Seattle. He now has a spot as a popular radio Psychiatrist, giving him the chance to spread words of wit and wisdom to the masses. He shares his apartment with his retired cop father, Martin, and his father's physical care assistant, Daphne Moon. Add in brother Niles, Eddie the dog, some bizarre situations and plenty of humor and you've got all the ingredients for an excellent show and worthy successor to Cheers.
Thanks to sharp writing and a pitch-perfect ensemble cast, Frasier became one of the smartest and funniest television shows of the 1990s. Following the 1993 demise of Cheers, Diane's fussy psychiatrist boyfriend, Frasier Crane (Kelsey Grammer), seemed an unlikely candidate for a spin-off series, yet the show earned smash ratings and dozens of Emmy Awards, including Outstanding Comedy Series and Outstanding Lead Actor (Grammer) in the very first season. In an inspired bit of casting, Grammer was matched with David Hyde Pierce as his brother and fellow psychiatrist Niles, and the rest of the players included his radio-program manager, Roz (Peri Gilpin), his father, Marty (John Mahoney), his father's physical therapist, Daphne (Jane Leeves), and the dog Eddie (Moose).
Midway through Frasier's redemptive final season (which earned Emmys for Kelsey Grammer and David Hyde Pierce), Martin Crane (John Mahoney) reassures his son, "Just when you think that you're in a rut and nothing exciting will ever happen again, pow, that's when it does." The same could have been said of Frasier's redemptive final season. Not that the multi-Emmy-honored series had ever really jumped the couch, but by its 11th season, it had lost some of its sparkle.
Then, veteran Frasier writers Christopher Lloyd and Joe Keenan return to the fold. Wendie Malick joins the seamless ensemble as brash lounge singer Ronee Lawrence, who becomes a love interest for Martin. POW! Daphne (Jane Leeves), underutilized since her marriage to Niles, becomes pregnant. POW! Frasier opens his own private practice. POW! Laura Linney guest stars as Charlotte, who becomes the hapless Frasier's own Miss Right.
The series also benefited greatly from a stellar roster of character actors, who rose to the occasion of this gold standard series' final year. Penny Johnson (24), Sarah Silverman (School of Rock), and Dan "Homer Simpson" Castellaneta christen Frasier's couch in the episode, "The Return of Maris." Jennifer Tilly is at her ditzy, delectable best as a pick-up in "Miss Right Now." Laurie Metcalf replaces Emma Thompson as Frasier's first wife, children's entertainer Nanny G, in "Caught in the Act." Always welcome are Bebe Neuwirth as Lilith ("Guns 'N Neuroses") and Harriet Sansom Harris as Frasier's unscrupulous agent Bebe (the series finale, "Goodnight, Seattle").

Character to watch: John Mahoney as Martin Crane.
Journal your answers to the following questions after you watch the series.
How does this particular character's journey compare with yours?
Did the character develop certain characteristics during the movie that you have or that you would like to have? If so, what are those characteristics?
What obstacles did this character face? What was his or her biggest challenge?
What would you have done differently if you had been in the same position as the character?
Is this character the type of person you would be friends with? Why or why not?