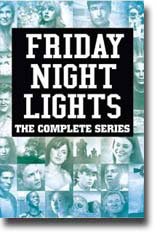 Release date: 2011Friday Night Lights accomplishes something that few television dramas are able to do: It betters the 2004 film (starring Billy Bob Thornton) on which the series is based. Set in Dillon, Texas, where football–even on the high school level–is everything,
Friday Night Lights is a compelling drama with a football subplot. Poignantly and effectively touching on racism, rape, steroids, jealousy, infidelity, and life-changing injuries, the series presents the inhabitants of Dillon as real people who are flawed, but remarkable in their ordinariness.
Though the series struggled to find an audience during its inaugural year, it was a critical favorite thanks to some fine acting by leads Kyle Chandler (as Coach Eric Taylor) and Connie Britton (who portrays his wife, Tami). Coach Taylor's career depends on his ability to get the Dillon Panthers to the state championship. If the team suffers a losing streak, he knows his family, which includes daughter Julie (Aimee Teegarden), will no longer be welcome in Dillon.
Britton, who also played the coach's wife in the film version, is a phenomenal actress who shares simmering chemistry with Chandler. Not content at just being the coach's wife, she lands a job as a counselor at the local high school. That position plays a pivotal role in the season finale, which leaves viewers wondering whether Eric will leave Dillon to accept a coveted coaching job with a university.
Though the majority of the twentysomething actors appear too mature to portray high school students, they have the mannerisms of teens down pat. Gaius Charles is perfect as cocky running back Brian "Smash" Williams, who'll risk his health to make sure he gets a football scholarship to college. Local sweethearts Jason Street (Scott Porter) and Lyla Garrity (Minka Kelly) are the high school's golden couple. When a football injury leaves him paralyzed, he finds strength in what the future holds for him, but Lyla finds herself in a short-lived affair with Jason's best friend Tim Riggins (Taylor Kitsch).
Once the relationship comes out in the open, their classmates' reactions to the "traitors" show that sexual inequality is rampant even in the teen set. Tim's teammates briefly ostracize him, but just as quickly forgive him, especially since he's so valuable on the football field. But Lyla becomes persona non grata to the girls at school who take too much glee in calling the head cheerleader a slut. The hits she takes verbally are no less lethal than the ones the boys take on the gridiron.
The tentative relationship between Julie Taylor and Matt Saracen (Zach Gilford) is the best depiction of teenage love since Angela Chase fell for Jordan Catalano on My So-Called Life. The actors do a wonderful job conveying the sweetness, pain, and hurt of falling in love without really understanding all of its implications. Peter Berg, who co-wrote and co-directed the film, has a strong presence as a writer on the series and evenly distributes the storylines between the kids and the adults. Friday Night Lights is a drama with teenage characters at its core. But the stories are universal.

Character to watch: Kyle Chandler as Eric Taylor.
Journal your answers to the following questions after you watch the series.
How does this particular character's journey compare with yours?
Did the character develop certain characteristics during the movie that you have or that you would like to have? If so, what are those characteristics?
What obstacles did this character face? What was his or her biggest challenge?
What would you have done differently if you had been in the same position as the character?
Is this character the type of person you would be friends with? Why or why not?