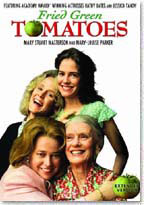 Evelyn Couch (Kathy Bates) is a woman having trouble in her marriage and no one seems to take her seriously. While in a nursing home visiting relatives, she meets Ninny Threadgoode, an outgoing old woman, who tells her the story of Idgie Threadgoode (Mary Stuart Masterson) when she befriends Ninny Threadgoode (Jessica Tandy).
Ninny tells of Idgie's friendship with Ruth (Mary-Louise Parker) and how Ruth moves in with Idgie to escape her abusive husband, Frank (Nick Searcy). The women open a café called the Whistle Stop Café in Whistle Stop, Alabama.
When Ruth's husband is suddenly murdered, Idgie is a suspect. She is arrested for Frank's murder. During the subsequent trial, the local minister lies, providing Idgie with an alibi for the time of Frank's disappearance.
Taking into account Frank's reputation for getting drunk, the judge rules his death an accident, clearing Idgie. After the trial, Ruth develops cancer and dies. Following her death, the café closes. Over time, many Whistle Stop residents eventually move away, bringing Ninny to the end of her story, but not before the revelation of what really happened to Frank.
Every decade has its chick flicks that define those years and feature a who's who of up-and-coming actresses mixed with veterans. In the 1980s, it was Steel Magnolias and in the 1990s it was Fried Green Tomatoes, a southern folktale based on the novel by Fannie Flagg (who also co-wrote the screenplay).
Fried Green Tomatoes is a beautiful shot film that really evokes the rich, lush setting of the Deep South. Director Jon Avnet also uses warm colors to create an inviting atmosphere that draws the audience in. There is real artistic integrity to the camerawork which gives the film a Classic Hollywood vibe.
Fried Green Tomatoes is the perfect lazy Sunday summer afternoon movie that evokes simpler times. The film makes us appreciate taking the time out of our busy lives to stop and smell the roses as it were. The film espouses a simple yet important message of tolerance and compassion towards one another but not in a preachy way. It is a message that is certainly applicable today (maybe even more so) making Fried Green Tomatoes even more relevant.
Year of Release: 1991
Director: Jon Avnet

Character to watch: Mary Stuart Masterson as Idgie Threadgoode
Journal your answers to the following questions after you watch the movie.
How does this particular character's journey compare with yours?
Did the character develop certain characteristics during the movie that you have or that you would like to have? If so, what are those characteristics?
What obstacles did this character face? What was his or her biggest challenge?
What would you have done differently if you had been in the same position as the character?
Is this character the type of person you would be friends with? Why or why not?