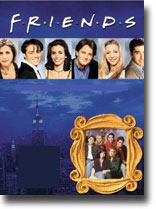 A sitcom behemoth of the last 10 years, Friends shot out of the gate in 1994 with snappy writing and an attractive cast. The exploits of sensitive paleontologist Ross Geller (David Schwimmer), his obsessive-compulsive sister Monica Geller (Courteney Cox); Monica's roommate Rachel Green (Jennifer Aniston), a spoiled rich girl trying to live on her own; earthy aromatherapist/masseuse Phoebe Buffay (Lisa Kudrow); and Monica's neighbors across the hall– sarcastic Chandler Bing (Matthew Perry) and his dim-bulb roommate Joey Tribbiani (Matt LeBlanc) became a nationwide obsession, a pop-culture icon (remember "The Rachel" haircut?) and a top Nielsen hit for its entire run.
The first two seasons were mostly centered on the on-off saga of Ross and Rachel, and while their relationship remained a strong presence through romantic rivals and even a baby, the other characters eventually moved from sideshow players into a shared comedic lead.
Friends was not without its heart. Most of the cast had dysfunctional relationships with their parents and went through loss, divorce, marriage, parenthood, and love triangles. The emotional pregnancies of Rachel (by Ross) and Phoebe (surrogate to her half-brother's triplets) won the actresses Emmy Awards, and Joey's tender feelings for Rachel in Season 8 won LeBlanc, the most improved actor in the series, a nomination.
Most sitcoms run out of ideas by the fifth season, but Friends gave itself a refreshing jolt the minute Monica and Chandler wound up in bed together. Their budding romance was not only the one of the funniest arcs of the series, but one of the most sentimental, as they planned a wedding, struggled to have a child and eventually turned to adoption. By seasons seven and on, the characters had each "grown up" from young singletons to thirtysomethings finding permanence in their careers and love lives but never losing the laughs.
Friends featured a parade of celebrity guests, but unlike Will & Grace, it actually utilized most of the stars as more than cameos: The sextet's parents were all brilliantly cast, particularly Kathleen Turner as Chandler's drag-queen father and Teri Garr as Phoebe's dizzy mom. Everyone from George Clooney to Sean Penn to Julia Roberts to Bruce Willis has appeared on the sitcom, and Tom Selleck certainly enjoyed a career resuscitation after his recurring role as Monica's older man.
But no star power ever penetrated the bond between the six stars, and their unmatchable chemistry worked for 10 seasons. Even if the show is on reruns daily, this boxed set of Friends remains watchable over and over again–even if that theme song grates on your nerves.

Character to watch: Lisa Kudrow as Phoebe Buffay.
Journal your answers to the following questions after you watch the series.
How does this particular character's journey compare with yours?
Did the character develop certain characteristics during the movie that you have or that you would like to have? If so, what are those characteristics?
What obstacles did this character face? What was his or her biggest challenge?
What would you have done differently if you had been in the same position as the character?
Is this character the type of person you would be friends with? Why or why not?