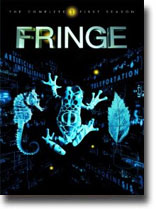 Teleportation. Mind control. Invisibility. Astral projection. Mutation. Reanimation. Phenomena that exist on the Fringe of science unleash their strange powers in this thrilling series, co-created by J.J. Abrams (Lost, Alias), combining the grit of the police procedural with the excitement of the unknown.
The story revolves around three unlikely colleagues – a beautiful young FBI agent, a brilliant scientist who's spent the last 17 years in a mental institution and the scientist's sardonic son – who investigate a series of bizarre deaths and disasters known as "the pattern." Someone is using our world as an experimental lab. And all clues lead to Massive Dynamic, a shadowy global corporation that may be more powerful than any nation.
Along with the weird science, the series features a multi-agency task force investigating related acts of terrorism that may very well add up to a threat of unimaginable global proportions; people who are exactly what they appear to be (i.e., insane) and others who are anything but; plot twists galore; family drama, interpersonal relationships, corporate evil, cop chases… There's a lot in play here, and while it doesn't always hold together (and like any new series, it takes a while to hit its stride), Fringe is rarely boring, and never less than impressively ambitious.
The pilot introduces us to the main characters, principally FBI agent Olivia Dunham (Anna Torv, good but not great in the show's central role) and others on the task force brought in to investigate some gross goings-on aboard a jumbo jet (a "self-eradicating, airborne toxin" reduced everyone to blood and bones).
Seems this is but one part of "The Pattern," a series of synchronous, similarly shocking events that unfold as the show progresses; in subsequent episodes, lots of people are killed in graphic fashion by all manner of horrors, including scary monsters (slugs as big as a football, teethed parasites that can crush your heart), a gas that freezes a busload of passengers "like insects trapped in amber," people so radioactive they can literally make your brain boil.
Helping Dunham and the rest of the force figure it all out are scientist Dr. Walter Bishop (an appealing John Noble), who's spent the past 17 years locked up in the loony bin and whose research may be responsible for some of the crimes we witness, and his son-babysitter Peter (Joshua Jackson).
As for the "fringe" element, Dr. Bishop and other, less benign geniuses jump-start a dead man's brain, photograph another victim's cornea in order to access the last thing she saw before death, connect Dunham to her boyfriend so she can experience his memories of the incident that left him comatose, use high-frequency vibrations to enable bank robbers to pass through a solid vault wall, and much, much more. As for where and how all of this ends up, let's just that inquiring minds will have to hang in for the long, complicated run.

Character to watch: Anna Torv as Olivia Dunham.
Journal your answers to the following questions after you watch the series.
How does this particular character's journey compare with yours?
Did the character develop certain characteristics during the movie that you have or that you would like to have? If so, what are those characteristics?
What obstacles did this character face? What was his or her biggest challenge?
What would you have done differently if you had been in the same position as the character?
Is this character the type of person you would be friends with? Why or why not?