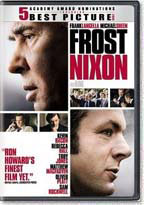 A series of news reports document the role of Richard Nixon (Frank Langella) in the 1972 Watergate scandal, prior to his 1974 resignation speech. Meanwhile, David Frost (Michael Sheen) has finished recording an episode of his talk show in Australia and watches on television as Nixon leaves the White House. A few weeks later in the London Weekend Television (LWT) central office, Frost discusses the possibility of an interview with his producer and friend, John Birt (Matthew Macfadyen).When Frost mentions Nixon as the subject, Birt doubts that Nixon will be willing to talk to Frost. Frost then tells Birt that 400 million people watched President Nixon's resignation on live television. Nixon is recovering from phlebitis at La Casa Pacifica in San Clemente, California. He is discussing his memoirs when his literary agent, Irving "Swifty" Lazar (Toby Jones), arrives to inform the former president of a request by Frost to interview him.
Nixon rejects the proposal out-of-hand until he hears of Frost's extraordinary offer to pay Nixon $500,000. Nixon is interested and instructs Lazar to haggle; a deal is struck for $600,000. Frost and Birt fly to California to meet with Nixon. On the plane Frost meets Caroline Cushing, with whom he begins a relationship. At La Casa Pacifica, Frost makes an advance payment of $200,000 using his personal checkbook. However, Nixon's post-presidential chief of staff, Jack Brennan (Kevin Bacon), expresses doubts that Frost will be able to pay the entire amount.
Richard Nixon resigned from the office of the presidency on August 9, 1974, rather than face impeachment by Congress for his role in the Watergate scandal, and subsequent events. He was the only US president ever to do so. The film shows real footage of the Nixon family, leaving the White House and boarding a helicopter – the first step in a journey which will take Mr. Nixon into exile.
David Frost, (Michael Sheen), a British celebrity talk show host, watches this event on television and decides that an interview with Nixon would be just the thing to relaunch his waning career. He pursues the project for some time and winds up financing it out of his own pocket, while searching desperately for backers. Creepy literary agent Irving "Swifty" Lazar, (Toby Jones), negotiates the deal.
Director: Ron Howard
Year of Release: 2008

Character to watch: Michael Sheen as David Frost.
Journal your answers to the following questions after you watch the movie.
How does this particular character's journey compare with yours?
Did the character develop certain characteristics during the movie that you have or that you would like to have? If so, what are those characteristics?
What obstacles did this character face? What was his or her biggest challenge?
What would you have done differently if you had been in the same position as the character?
Is this character the type of person you would be friends with? Why or why not?