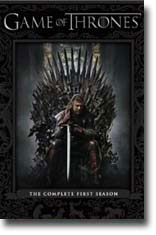 Game of Thrones, the first book in author George R.R. Martin's sprawling fantasy saga A Song of Fire and Ice, serves as the basis for this brawny, lusty series about courtly intrigue and civil war in a sprawling fantasy kingdom.
TV and fantasy veteran Sean Bean  leads the massive cast as the warrior-noble Eddard Stark, who reluctantly assumes the role as the Hand of the King after the mysterious death of his predecessor. The King, Robert Baratheon, has leadership of the lands of Westeros, a mythical country plagued by severe, decade-long shifts in weather.
Baratheon's rule is challenged by the exiled Prince Viserys Targaryen (Harry Lloyd), who trades his own sister (Emilia Clarke) for the allegiance of the Dothraki, a savage nomadic tribe led by Khal Drogo (Jason Momoa). A shocking secret kept hidden by Queen Cersei Lannister (Lena Headey) leads to an upset in the balance of power and, ultimately, a challenge to the House of Stark to bring control to the bloodshed that threatens to overtake Westeros.
Based on the bestselling book series A Song of Ice and Fire by George R.R. Martin, this sprawling new HBO drama is set in a world where summers span decades and winters can last a lifetime.
From the scheming south and the savage eastern lands, to the frozen north and ancient Wall that protects the realm from the mysterious darkness beyond, the powerful families of the Seven Kingdoms are locked in a battle for the Iron Throne. This is a story of duplicity and treachery, nobility and honor, conquest and triumph. In the Game of Thrones, you either win or you die.

Character to watch: Jason Momoa as Khal Drogo.
Journal your answers to the following questions after you watch the series.
How does this particular character's journey compare with yours?
Did the character develop certain characteristics during the movie that you have or that you would like to have? If so, what are those characteristics?
What obstacles did this character face? What was his or her biggest challenge?
What would you have done differently if you had been in the same position as the character?
Is this character the type of person you would be friends with? Why or why not?