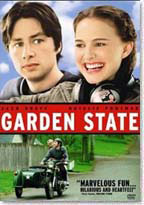 Andrew Largeman (Braff) wakes up from a dream—in which he apathetically sits on a crashing plane—to a telephone message from his father (Holm), telling Andrew that he needs to return home because his mother has died. Andrew leaves Los Angeles and returns home to New Jersey to attend the funeral.
He recognizes the grave-diggers as old friends Mark (Sarsgaard) and Dave (Alex Burns), who invite him to a party that night, where they meet up with Jesse (Armando Riesco), an old friend who has just earned a fortune after creating silent Velcro.
After smoking marijuana, he takes ecstasy at the party but remains detached. At home, his father books Andrew a doctor's appointment for headaches he's been having. The morning after the party, Andrew proceeds to the appointment.
In the waiting room, he meets a girl named Sam (Portman), who is a pathological liar. She later explains that most times she does not know why she lies and will always admit to them afterward.
In Andrew's meeting with his doctor (Ron Leibman), it is revealed that Andrew has been on lithium and other mood stabilizers, as well as antidepressants, for his entire adult life, but has recently stopped taking them. He also says that his father, who is his psychiatrist, put him on the medication. Andrew finds Sam outside the office and offers her a ride home.
Sam invites him into her house, and he meets her mother, who inadvertently reveals that Sam is an epileptic. Andrew tells Sam of his mother's death, and Sam tearfully eulogizes her hamster. After returning home, Andrew's father confronts him and is insistent that they have a talk before Andrew leaves.
Director: Zach Braff
Year of Release: 2004

Character to watch: Zach Braff as Andrew Largeman.
Journal your answers to the following questions after you watch the movie.
How does this particular character's journey compare with yours?
Did the character develop certain characteristics during the movie that you have or that you would like to have? If so, what are those characteristics?
What obstacles did this character face? What was his or her biggest challenge?
What would you have done differently if you had been in the same position as the character?
Is this character the type of person you would be friends with? Why or why not?