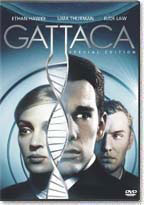 In his futuristic thriller, liberal eugenics is common and DNA plays the primary role in determining social class. Vincent Freeman (Ethan Hawke) is conceived and born without the aid of this technology. Because of this, Vincent has a high probability of developing a psychiatric disorder, is myopic, has a heart defect, and his projected life expectancy is only 30.2 years.
His parents initially placed their faith in natural conception and now regret it; Vincent's younger brother, Anton (Loren Dean), was conceived with the aid of genetic selection.Due to frequent screening in all aspects of the culture, Vincent faces genetic discrimination and prejudice. The only way he can achieve his dream of becoming an astronaut is impersonate someone with a superior genetic profile. He assumes the identity of Jerome Eugene Morrow, a former swimming star with a near perfect genetic profile.
In reality, Jerome (Jude Law) was injured in a car accident, leaving him paralyzed from the waist down. Vincent purchases Jerome's identity and uses his blood, hair, tissue, and urine samples to pass the DNA screening. To keep his identity hidden, he must meticulously groom and scrub down daily to remove his own genetic material and then cover himself with Jerome's.
With Jerome's genetic profile in place, Vincent gets accepted into the Gattaca Aerospace Corporation, the most prestigious spaceflight conglomerate, with a DNA test being the entire interview process. He becomes Gattaca's top celestial navigator and is selected for a manned one-year mission spaceflight to Saturn's moon Titan.
A week before the launch, one of Gattaca's administrators is found bludgeoned to death in his office. Police discover an eyelash of the real Vincent on the premises, and police begin to search for him among the employees.
Gattaca is an incredible example of a science-fiction movie entirely based on plot, low-key twists and development, and not on special effects. Married couple Hawke and Thurman, along with Jude Law, and the direction of Andrew Nicol prove that there is no gene for the human spirit.
Director: Andrew Niccol
Year of Release: 1997

Character to watch: Ethan Hawke as Vincent Freeman.
Journal your answers to the following questions after you watch the movie.
How does this particular character's journey compare with yours?
Did the character develop certain characteristics during the movie that you have or that you would like to have? If so, what are those characteristics?
What obstacles did this character face? What was his or her biggest challenge?
What would you have done differently if you had been in the same position as the character?
Is this character the type of person you would be friends with? Why or why not?