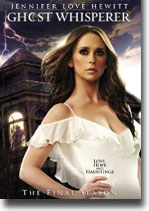 Ghost Whisperer
is not a show for cynics — or anyone who hates everything with the word "whisperer" attached to i). Though half of the show aims to make your flesh creep, the other half works just as hard to make everything warm and fuzzy.
Ghosts walk into Melinda Gordon's (Jennifer Love Hewitt) life the way snappy dames walked into Sam Spade's office, hitting her up for aid with a hard-luck story and a whole lot of strings attached.Her job is to help them untie the emotional knot that's keeping them earthbound–which usually involves, in one way or another, telling a still-living friend or relative how much the dead person loved them.
Whether it's a Vietnam vet who never met his son, a standup comedian who committed suicide, a bride who died on her big day, or a poltergeist child, in the end Melinda–assisted by her hunky paramedic husband Jim and vaguely useless best friend Andrea–will find a way to lead them to the light.
Ghost Whisperer is evasive about its theological implications, but Melinda's black-hatted nemesis from the season's end has a distinctly devilish air. Keeping a foot in both worlds as Melinda is Hewitt, an actress who doesn't seem entirely natural; between her cartoonish physical dimension (the show isn't shy about displaying her bosom), her fake eyelashes, and the seemingly molded contours of her face, she's like a life-sized doll. Unfortunately, this quality lends a similarly plastic feel to her telegenic smile and earnest looks of compassion.
The scripts are strictly middle-of-the-road tv fare, with obvious turns of plot and heavy-handed emotional crises, but the special effects conjure some eeriness. Extras include docs on the show's development, the lovely opening credits (based on the art of Maggie Taylor), and the paranormal investigators whose work inspired the show, along with a handful of episode commentaries and deleted scenes.
The stories and writing are original, creative, and fantastic. Even if you don't believe in ghosts, spirits, or people who can talk to them, these stories will make you believe. It will make you believe in the strength there is to be found after losing someone. Believe in the hope just one person can give an entire community. And believe that love truly never dies.

Character to watch: Jennifer Love Hewitt as Melinda Gordon.
Journal your answers to the following questions after you watch the series.
How does this particular character's journey compare with yours?
Did the character develop certain characteristics during the movie that you have or that you would like to have? If so, what are those characteristics?
What obstacles did this character face? What was his or her biggest challenge?
What would you have done differently if you had been in the same position as the character?
Is this character the type of person you would be friends with? Why or why not?