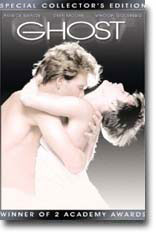 Demi Moore and Patrick Swayze are the passionate lovers whose romance is undone when the latter is murdered during a bungled hit arranged by a rival. The clever concept by screenwriter Bruce Joel Rubin extends outward into comedy when Swayze's character communicates through a sassy medium played by Whoopi Goldberg, who won an Oscar for this role, horror when the afterlife is populated by hell-bound demons and the like, and romantic complications when a handsome suitor, played by Tony Goldwyn, comes on to Moore while Swayze's spirit is still hanging around. Directed by Jerry Zucker, 
Ghost
is a careful balancing act of strong commercial elements, but at heart it is a timeless Hollywood tearjerker that easily gets under one's skin.
The action, and suspense will keep you on the edge of your seat, the romance will thrill you and the special effects are dazzling. Whoopi Goldberg is fabulous, and provides the wonderful comic relief in the story, as a con artist who finds herself with a gift to give. Swayze and Moore seem like they were made for each other and will have you believing in love ever after.What makes Ghost special is the way it takes what might have been an unbearably sentimental story and turns it into a powerfully romantic drama with a positive message about life, death and love. He manages to make us feel a flurry of emotions while we stare dumbfounded at the unbelievable events unfolding before us, making them extremely plausible. He sucks us into the tightly knit tale from the very first frame, and doesn't let go until the end credits begin to roll.
Demi Moore and Patrick Swayze both give excellent performances that keep the love story going. They both have a chemistry that never stops or staggers the film, but keeps it going. Whoopi Goldberg is Otta Mae Brown, a role she was born to play. Her comic genius and diverse areas of acting play a major role, and sometimes become the heart of the film. Tony Goldwyn plays the conniving Carl, and does so effectively. He is one of those few people in a movie that the audience can truly despise for his crimes, and when the ending comes, it is pure satisfaction to watch him get what's coming to him.
"Ghost" is nothing short of a successful movie, keeping us enthralled with comedic, romantic and thrilling elements, making us believe in things beyond this world. It never stops moving, it is utterly original, and it keeps us at the edge of our seats as well as tugging at our hearts.
Director: Jerry Zucker
Year of Release: 1990

Character to watch: Whoopi Goldberg as Oda Mae Brown.
Journal your answers to the following questions after you watch the movie.
How does this particular character's journey compare with yours?
Did the character develop certain characteristics during the movie that you have or that you would like to have? If so, what are those characteristics?
What obstacles did this character face? What was his or her biggest challenge?
What would you have done differently if you had been in the same position as the character?
Is this character the type of person you would be friends with? Why or why not?