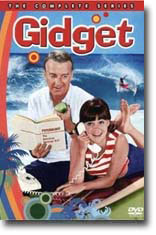 Catch a wave with America's favorite southern California beach teen in Gidget. Join Sally Field as perky 15-year-old Frances Elizabeth Lawrence — better known to her family and friends as Gidget, Don Porter as her ever-loving father, Russ, and a host of such soon-to-be-famous faces as Richard Dreyfuss, Barbara Hershey, Bonnie Franklin, Harvey Korman and Henry Jaglom, for 32 winning episodes of fun-in-the-sun comedy, romance and adventure.
Gidget launched the career of Field (who decades later still looks like the sweetie-pie beach bunny she played in the mid-'60s series). The show is a valentine to Southern California, surfing, and plucky girl power–in fact, Gidget's self-aware musings and intrepid ways of getting out of trouble lay the groundwork for later TV heroines like Buffy and Veronica Mars.
The show's aged surprisingly well, mostly because of the undeniable charms of Field, who seems to take her teenage "horror stories"–as when squeeze Jeff (a.k.a. Moon Doggie) is poised to return to Princeton and suggests they date other people–with a knowing grain of salt. The teen drama is all a bit tongue in cheek, since it's clear nothing will get our Gidget down for long.
The dialogue is a real treat, a crazy mix of late film noir ("How old's the underripe tomato?") and pre-Summer of Love hipster California-speak ("Well, look at all the wiggy birds around here!"). The set includes all 32 episodes, with a short interview with Field, who has a lot of affection for her young persona–as do we all, Daddy-o.
Frances Lawrence, known as Gidget to her family and friends, spends every spare moment on the beach at Malibu where she surfs and enjoys harebrained adventures, though her married sister Anne loves to interfere with Gidget's plans. Gidget suffered from poor ratings and only lasted for one full season before being shelved, though the show did generate some interest during summer re-runs. However, a second season could not be filmed due to Sally Field having been all but signed to do "The Flying Nun", and Gidget was axed altogether.
The series remains pleasant and enjoyable viewing with fine performances from the entire cast, particularly Don Porter ("Private Secretary") as Gidget's widowed father Russ and Lynette Winter ("The Parent Trap") as Gidget's shy best friend Larue. Sally Field, in her first big starring vehicle, is perky, appealing and everything else we expect Gidget to be. The rest of the cast includes Betty Conner, Pete Duel and Michael Nader. Keep an eye out for several guest stars including Richard Dreyfuss, Bonnie Franklin, Barbara Hershey and Henry Jaglom.

Character to watch: Sally Field as Gidget.
Journal your answers to the following questions after you watch the series.
How does this particular character's journey compare with yours?
Did the character develop certain characteristics during the movie that you have or that you would like to have? If so, what are those characteristics?
What obstacles did this character face? What was his or her biggest challenge?
What would you have done differently if you had been in the same position as the character?
Is this character the type of person you would be friends with? Why or why not?